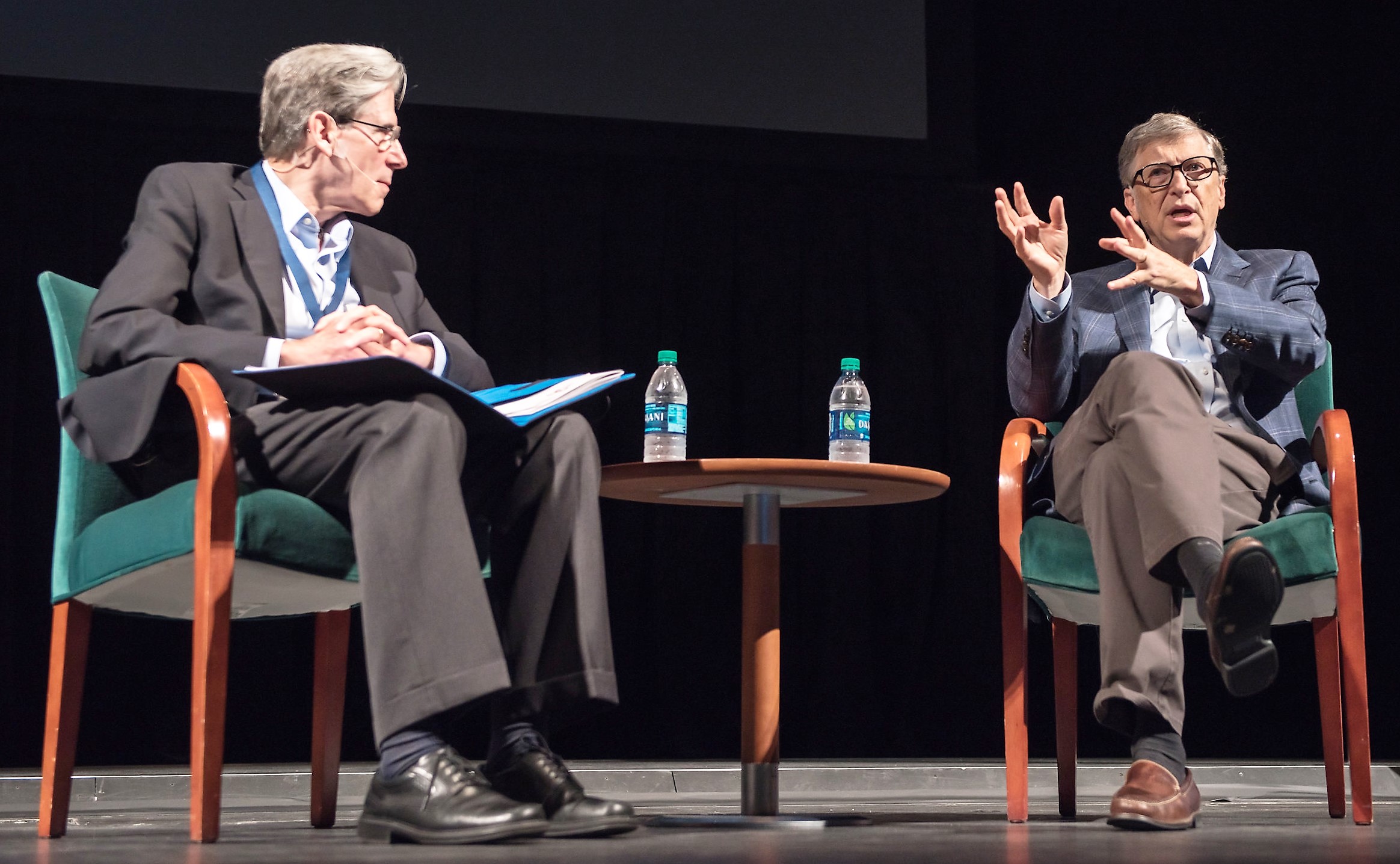 Dr. Julio Frenk, President of the University of Miami and IHME board member, moderates Q&A with Bill Gates
The Global Burden of Disease study (GBD) has been compared to many landmark events: the advent of the encyclopedia, the mapping of the human genome, and the first landing on the moon.
Bill Gates recently put such historic references in the context of a clear and present need: "By using GBD, understanding where we're going year-by-year and course-correcting…gives us the best chance of saving 20 million [under-5] lives."
That comment was one of several highlights of Mr. Gates' one-hour keynote address and Q&A at the GBD 20th Anniversary Symposium, September 26 and 27 in Seattle.
In public health, accurate knowledge of health burden over time is important in order to navigate challenges facing health systems, especially in poorer countries, where the Bill & Melinda Gates Foundation directs much of its health funding. The GBD, the largest and most comprehensive effort to quantify health loss across places and over time, draws on the work of more than 2,700 collaborators in nearly 140 countries and territories. The Institute for Health Metrics and Evaluation (IHME) at the University of Washington coordinates the study.
Prior to the GBD, health policy makers and decision makers were only able to look at snapshots of health at fixed points in time – often snapshots taken many years or decades apart. The study, which examines more than 400 diseases and risk factors in every country, has helped address this incomplete picture by providing much-needed context for how health is changing, not just decade by decade but year to year.
Mr. Gates lauded the study, stating, "One of the great capabilities of the GBD ... is now we can take and see how things change over time."
Today, with more than a quarter century of annual estimates in the GBD, decision makers can evaluate which diseases and risks have increased or decreased in different countries or regions, and analyze how slowly or quickly those changes are occurring over time.
Mr. Gates also congratulated IHME for making great strides to shorten the GBD production cycle to an annual basis. In their commentary in The Lancet, the study's co-founders Dr. Christopher Murray and Dr. Alan Lopez celebrated this shift from episodic production to annual updates. Annual production allows stakeholders to focus on the pace of change, not just differences in levels of burden.
Mr. Gates reiterated that point.
"It is phenomenal how the GBD is helping us do better with global health," he said.