'For those of you who enter the policy world, I say remember one thing: understand the enormity of the health care enterprise – cost, quality, value….' - JAMA Editor Howard Bauchner, MD, addressing the 2015 graduating class at the Boston University School of Medicine
The paper, "US spending on personal health care and public health, 1996–2013," published recently in JAMA, found that just 20 conditions make up more than half of all spending on health care in the United States. The paper's findings have elicited a variety of recommendations from health care experts from the private sector and an architect of the Affordable Care Act.
The most expensive condition in 2013, diabetes, totaled $101 billion in diagnoses and treatments, growing 36 times faster than the cost of ischemic heart disease, the number-one cause of death, over the past 18 years. While these two conditions typically affect individuals 65 and older, low back and neck pain, the third-most expensive condition, primarily strikes adults of working age. These three top spending categories, along with hypertension and injuries from falls, comprise 18% of all personal health spending and totaled $437 billion in 2013.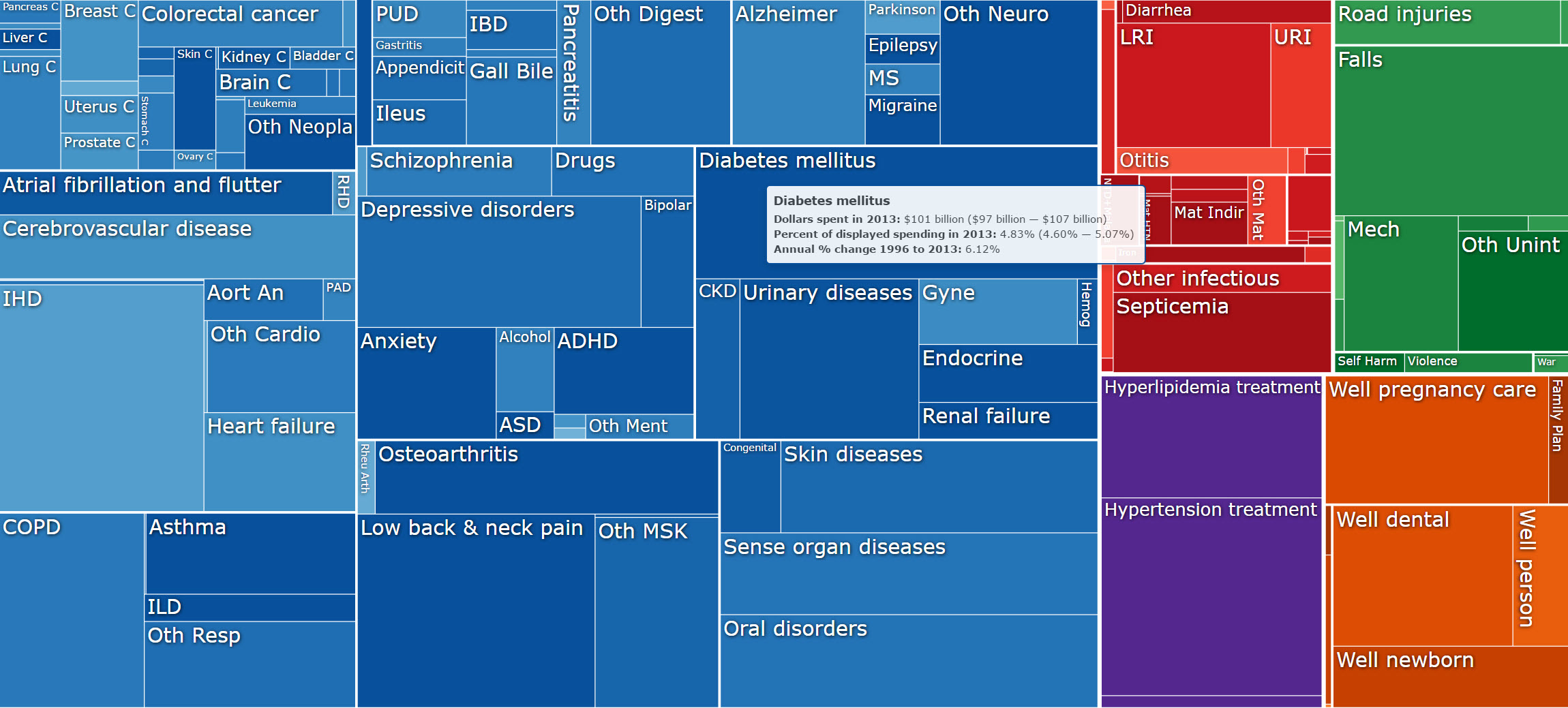 Disease Expenditure Visualization, http://ihmeuw.org/400c
"While it is well known that the US spends more than any other nation on health care, very little is known about what diseases drive that spending and how this spending has changed over time," said Joseph Dieleman, PhD, lead author of the paper and assistant professor at IHME. "IHME is trying to fill this information gap so that decision-makers in the public and private sectors can understand the spending landscape, and plan and allocate health resources more effectively, with the hope that the US health care system could become more equitable and efficient."
Among those influencing decision-makers is Howard Bolnick, FSA, an actuarial consultant to the health insurance industry whose current work with The Vitality Group, a global research organization, that focuses on wellness. (Disclosure: The Vitality Group was one of the study's funders.)
"There are three significant life stages, each of which has a different prevalence profile of risk and disease, and each of which offers a different opportunity for prevention in the United States," Bolnick said. Those three are:
Childhood: "What works best at younger ages is to establish lifelong healthy habits, particularly adequate physical activity, healthy diets, and effective weight management. Disease prevention at these ages is mainly aimed at avoiding childhood diseases, such as through vaccinations, and most other risk factors, including high blood pressure and high cholesterol, are virtually nonexistent. In the United States, pre-employment risks are generally seen as the domain of public health; however, the greatest financial savings from such interventions become visible beyond middle age."
Working age: "Employers assume critical roles as risk levels begin to increase significantly with age during working years, but well before the highest levels of disease prevalence and costs are reached."
Retirement: "Government-run Medicare assumes responsibility for the health of retired workers. Disease costs rise quickly from middle age onward, increasing significantly into retirement. The main cost savings from risk reduction in childhood and working age accrue to Medicare. The failure to implement workplace prevention programs and more effective public health programs leads to many more unhealthy people entering the Medicare pool."
An issue underlying Bolnick's comments on life stages is the essential role of the individual patient's responsibilities and obligations in overseeing his or her personal care. Jeffrey D. Selberg, MHA, Executive Director of the Peterson Center on Healthcare, oversees initiatives and grants aimed at improving the American health care system.
"Health care delivery should be designed around the needs of the patient, who should be cared for by a well-coordinated team of physicians, nurse practitioners, nurses, and medical assistants," Selberg said. "To ensure continuity, the team should manage the care of their patients regardless of where they are in the system.
"Access to data providing information on outcomes, the experience of care, and total costs is essential for patients and providers. This will require a greater level of transparency than we have currently. As such, patients will be able to identify and select the highest-value care team and providers will be able to see their relative performance and know where to improve. Value-based payment for providers, coupled with benefits with deductibles and copays, should be designed to create the right mix of incentives to drive for higher value in health care."
The Peterson Center on Healthcare is funding IHME to forecast trends in US health care spending through 2040.
Higher value in health care would include patients' understanding of wellness and prevention efforts – and more important, acting on those efforts. And patients who did so likely would reduce their individual expenditures. In addition, the combination of public policies on healthy lifestyles and employee wellness initiatives are likely to result in lower overall costs, but also improvements in the US economy, according to Francois Millard, Senior Vice President and Chief Actuarial Officer of the Vitality Group, who is responsible for the incentive structure and actuarial modeling for the firm's US clients.
"The health of the modern workforce is changing," Millard said. "Employees today are less likely to lose their limbs at work, but it's rather their hearts, lungs, and minds that are impacted by unhealthy workplace environments and practices. The aging labor force contributes to the complexity of health needs, and chronic diseases, including depression, anxiety, and diabetes, have become significant concerns for employers due to escalating health care costs.
"Moreover, workforce conditions are also changing. The decrease in acute traumatic injuries from work and the increase in chronic conditions, such as depression and anxiety, reinforce the need to improve the availability of wellness programs. Because more than 60% of Americans obtain their health insurance coverage through employment-based plans, employee wellness programs are uniquely positioned to respond to the varied health needs of a multigenerational workforce."
JAMA underscored the importance of IHME's paper by publishing a comment, "How can the United States spend its health care dollars better?" by Ezekiel J. Emanuel, MD, Vice Provost for Global Initiatives and chair of the Department of Medical Ethics and Health Policy at the University of Pennsylvania. He stresses the importance of "follow[ing] the money" in US health care.
"The trail has led to important findings that could ultimately compel the United States to change how it spends its trillions of dollars in health care," Emanuel writes. "At the very least, the data suggest that the United States needs to pay more attention to and provide higher-quality care for behavioral health and management of physical pain (such as low back, hip, and knee pain). There should also be an increased public health focus on lifestyle interventions and injury prevention…. Initiatives in all of these areas are both necessary and timely…. These important suggestions will hopefully have the chance to both be considered and, ultimately, influence national policies and practices."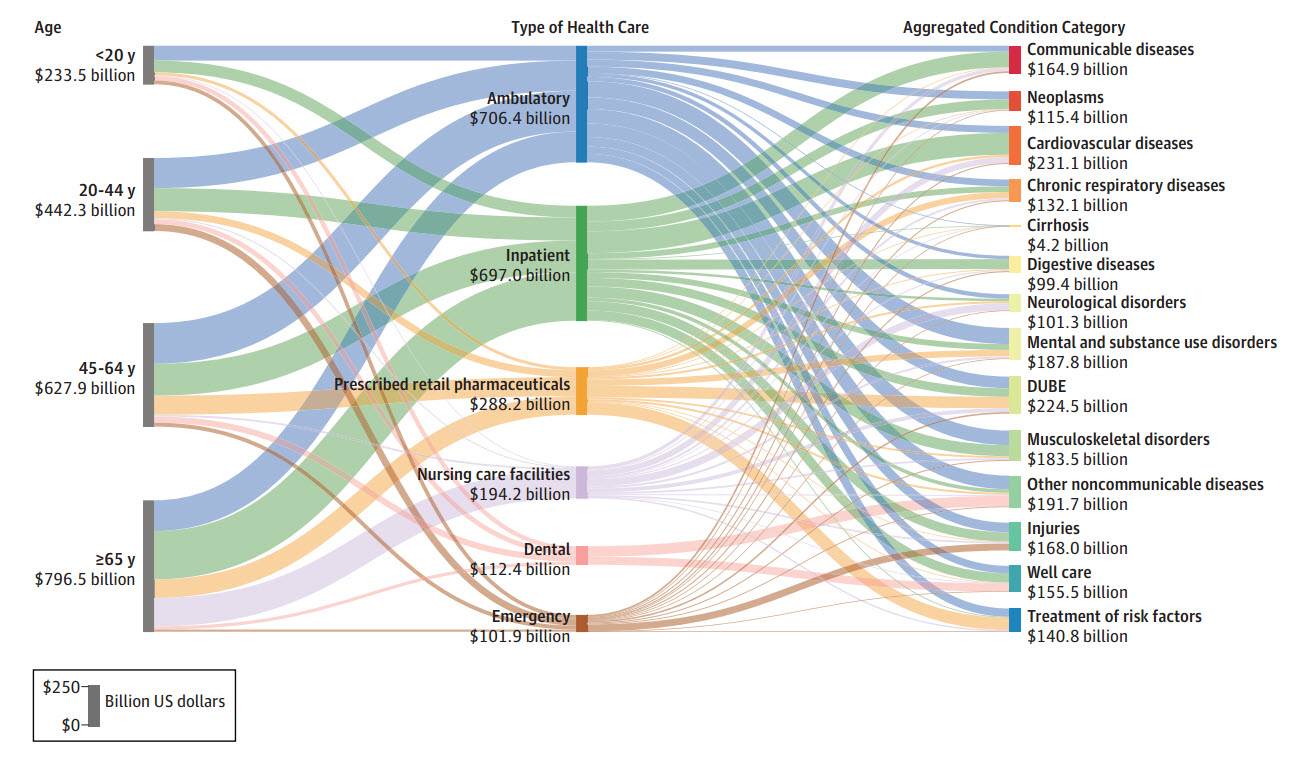 According to IHME, the top 10 most costly health expenses in 2013 were for the following:
Diabetes – $101.4 billion
Ischemic heart disease – $88.1 billion
Low back and neck pain – $87.6 billion
Hypertension – $83.9 billion
Injuries from falls – $76.3 billion
Depressive disorders – $71.1 billion
Oral-related problems – $66.4 billion
Vision and hearing problems – $59 billion
Skin-related problems, such as cellulitis and acne – $55.7 billion
Pregnancy and postpartum care – $55.6 billion
Related Content