Health in Iran has improved dramatically over the last few decades.
Since the Iranian revolution in 1979, Iran's government has invested extensively in providing primary care to its people, even in the most remote corners of the country. A network of Health Houses staffed by community health workers serve 1,200 people each, and Rural Health Centers run by physicians serve 7,000 people each. Iran's primary health care network has contributed to steep declines in the burden of many communicable, maternal, newborn, and nutritional diseases (see Figure 1).
Figure 1: Leading causes of disease burden in Iran, 1990 and 2013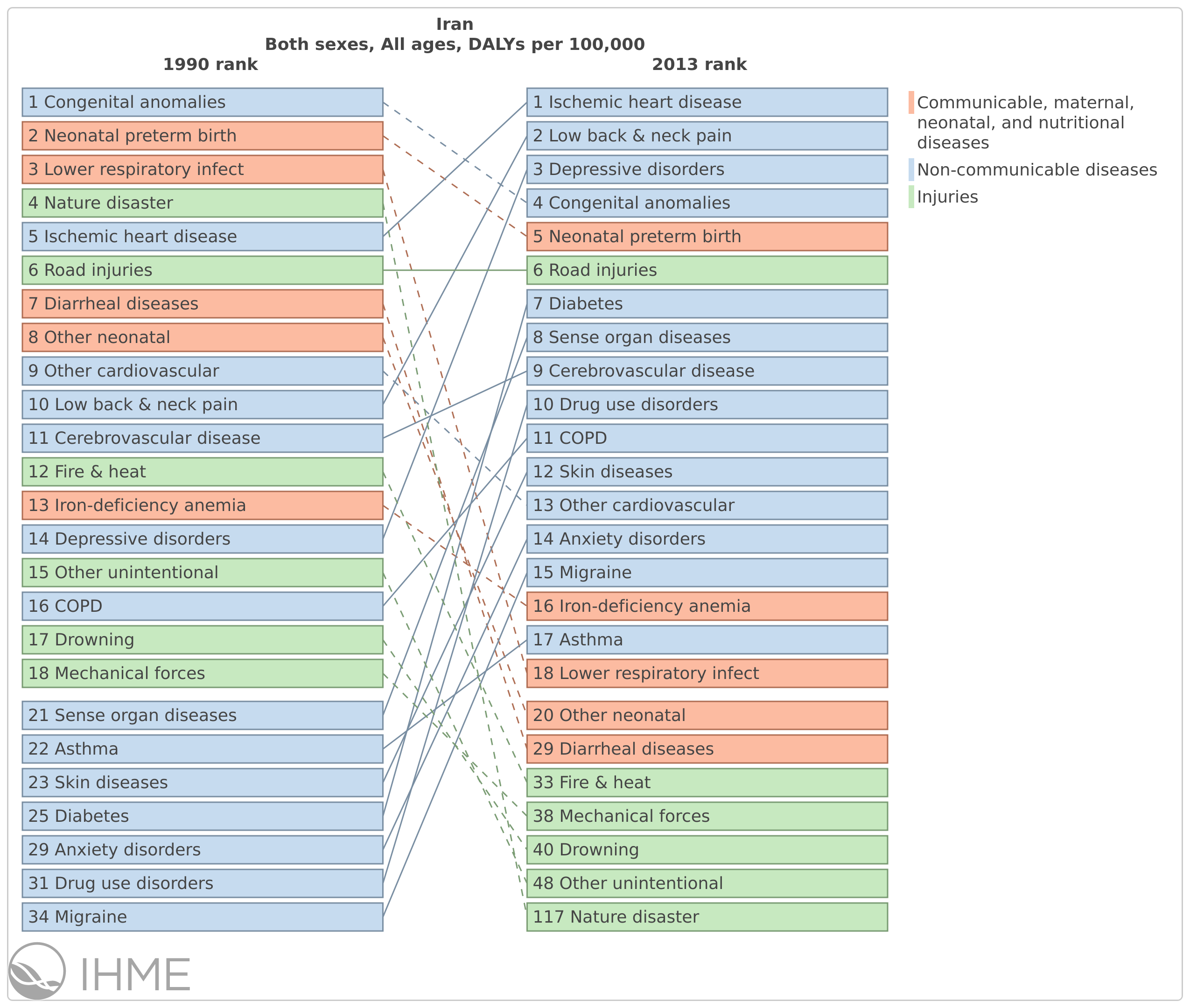 In 2001, a study of disease burden in Iran revealed that a major health threat required action beyond the health sector. The study, led by IHME Professor Mohsen Naghavi, estimated that transport accidents were the leading cause of premature death in the country.
In response to these findings, the Iranian government strengthened police enforcement of speed limits and helmet laws. They expanded emergency response services to ensure that injured people could get medical attention quickly. The government also started an emergency medicine training program for physicians, a specialty that previously did not exist in the country.
Since 2000, the burden of transport injuries in Iran has dropped by 52% (Figure 2).
Figure 2: Burden of disease from transport injuries in Iran, 1990-2013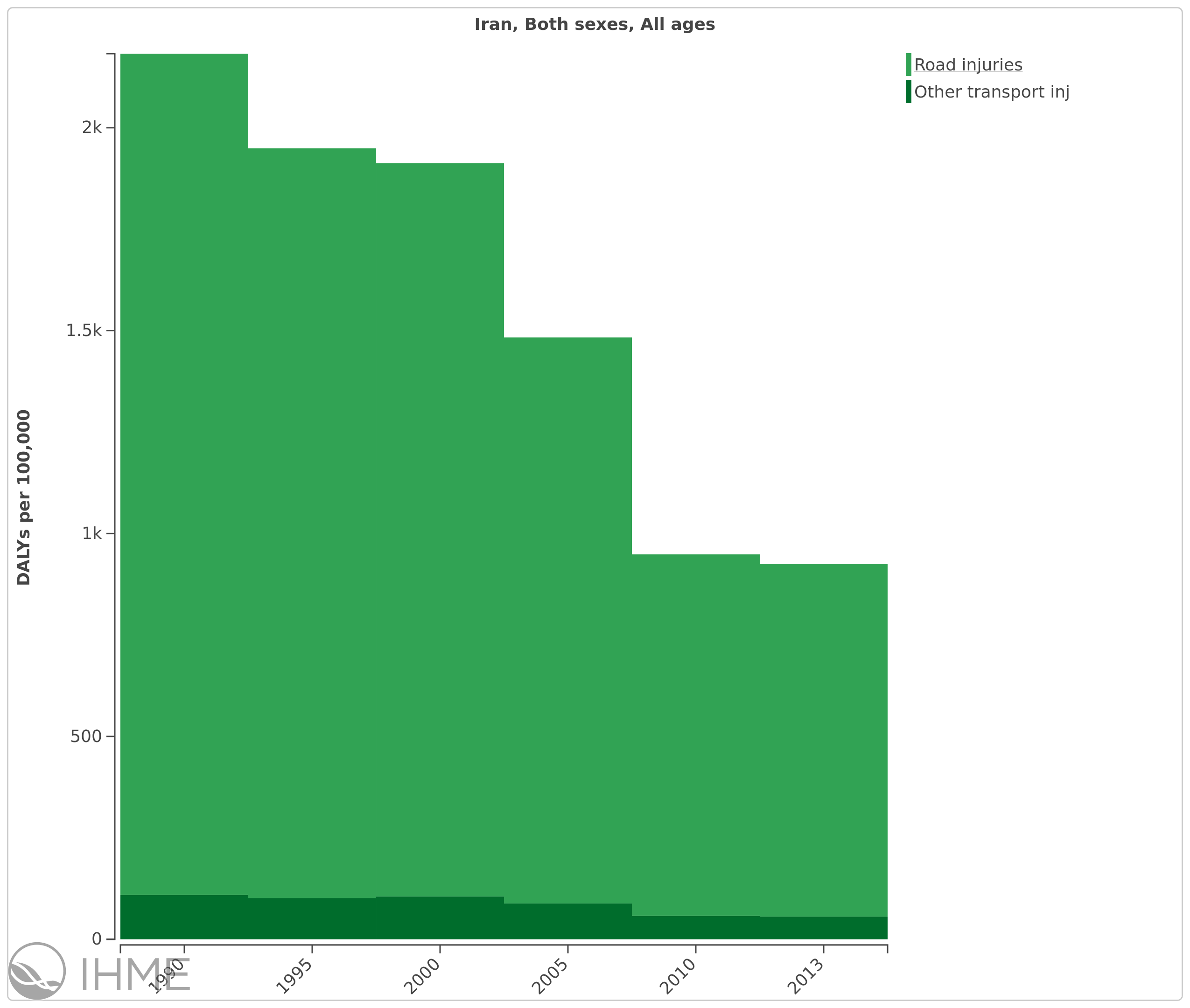 The Iranian government continues to use disease burden data to guide its work. In July 2015, the leading policymaking body on health in the country, the Supreme Council of Health and Food Security, launched the National Action Plan for the Prevention and Control of Non-Communicable Diseases and Related Risk Factors in the Islamic Republic of Iran, 2015-2025. The Action Plan presents findings from the Global Burden of Disease study that show how non-communicable diseases pose an increasing threat to Iranians' health.
"Health and drug stakeholders in the country must ensure that none of the individuals are suffering from lack of physicians or drugs…treatment must be available for all citizens...," wrote Iran's Supreme Leader Ali Khamenei.
The Action Plan spells out ambitious targets for non-communicable diseases to be achieved by 2025, such as a "25% reduction in the risk of premature death from cardiovascular disease, cancer, diabetes, chronic lung disease," "30% relative reduction in the prevalence of tobacco use in persons aged 15+ years," and a "20% increase in access to treatment for mental diseases."
"…Considering the global threat non-communicable diseases pose globally today, [the] NCD Prevention Initiative can be asserted to be one of the most effective and practical measures to achieve this goal," wrote Dr. Hassan Rouhani, the President of Iran. "However, this would be elusive without effective involvement and collaboration between all governmental organizations involved in provision of health services."
Just as the government did when the Global Burden of Disease 2003 study was published, it is enlisting help from diverse sectors to tackle Iran's health problems, ranging from the Ministry of Agriculture to the Ministry of Education and the Broadcasting Organization. From incentivizing consumption of nutritious food to educating the public about healthy lifestyle habits, government agencies across the country can play a role in improving the country's health.