Cardiovascular diseases (CVD) remain the leading cause of death in the world. According to the Global Burden of Disease Study 2013 (GBD 2013), the number of CVD deaths has risen since 1990 – from 12.3 million in 1990 to 17.3 million in 2013, an increase of almost 41%.
It was numbers like this that led the World Health Organization (WHO) to issue its 2013-2020 Global Action Plan for the Prevention and Control of Non-Communicable Diseases (NCDs). The plan calls on WHO member states to target CVD risk factor reduction – including reducing hypertension and halting the rise in diabetes and obesity – by 2025. The goal is a 25% reduction in premature mortality from CVD, cancer, chronic respiratory diseases, and diabetes in that year.
Following the WHO Global Action Plan, the American Heart Association (AHA) and the World Heart Federation (WHF) recently published a scientific statement in Circulation that examines the challenge of measuring progress toward the 25x25 CVD goals. The "Heart of 25 by 25" scientific statement – for which IHME developed region-specific modeling and supplied expertise – argues that the number of premature CVD deaths projected by 2025 could be cut dramatically if a number of "risk factor targets" are achieved.
IHME researchers, including Dr. Gregory Roth, IHME Assistant Professor and a cardiologist at the University of Washington School of Medicine, as well as IHME director Dr. Christopher J.L. Murray, contributed to the AHA/WHF scientific statement. The statement, which draws on previous GBD 2013 publications – including a September 2015 paper (also published in Circulation) estimating cardiovascular mortality up to 2025 – is significant because with the WHO plan the world is setting NCD benchmarks for the first time, noted Dr. Roth. Because the vast majority of CVD deaths are preventable, meeting a small number of NCD targets could have a massive effect on CVD mortality worldwide, he added.
The burden of cardiovascular disease in 2013 and beyond
In the 2015 Circulation study, the researchers found – assuming current blood pressure, diabetes mellitus, obesity, and tobacco use trends continued – that "premature CVD deaths would rise from 5.9 million in 2013 to 7.8 million in 2025," with no significant change in the global probability of premature CVD deaths. Though some regions of the world would see declines in CVD mortality by 2025, many would fall short of the WHO's goal of a 25% reduction.
If major risk factor scenarios are met, including reductions in hypertension, diabetes, obesity, and tobacco use, the number of premature CVD deaths in 2025 would be 5.7 million instead of 7.8 million, the study's authors note.
The figures below illustrate the burden of CVD around the world. The map shows how cardiovascular disease death rates shifted between 1990 and 2013 – with decreases across much of the globe, but increases in countries like Bangladesh (+2.58% between 1990 and 2013) and Ghana (+2.64% between 1990 and 2013).
Figure 1: Annual CVD mortality rate of change, both sexes, age-standardized, 1990-2013
And the chart shows the top cardiovascular disease risk factors for the 10 most populous countries in the world. Without exception, high blood pressure was the top risk factor for CVD across all countries, reflecting the huge gains that could be made with early, primordial prevention of increased blood pressure. High sodium and high body mass index are also leading risk factors in many countries.
Figure 2: Top CVD risk factors for the 10 most populous countries, both sexes, age-standardized, 2013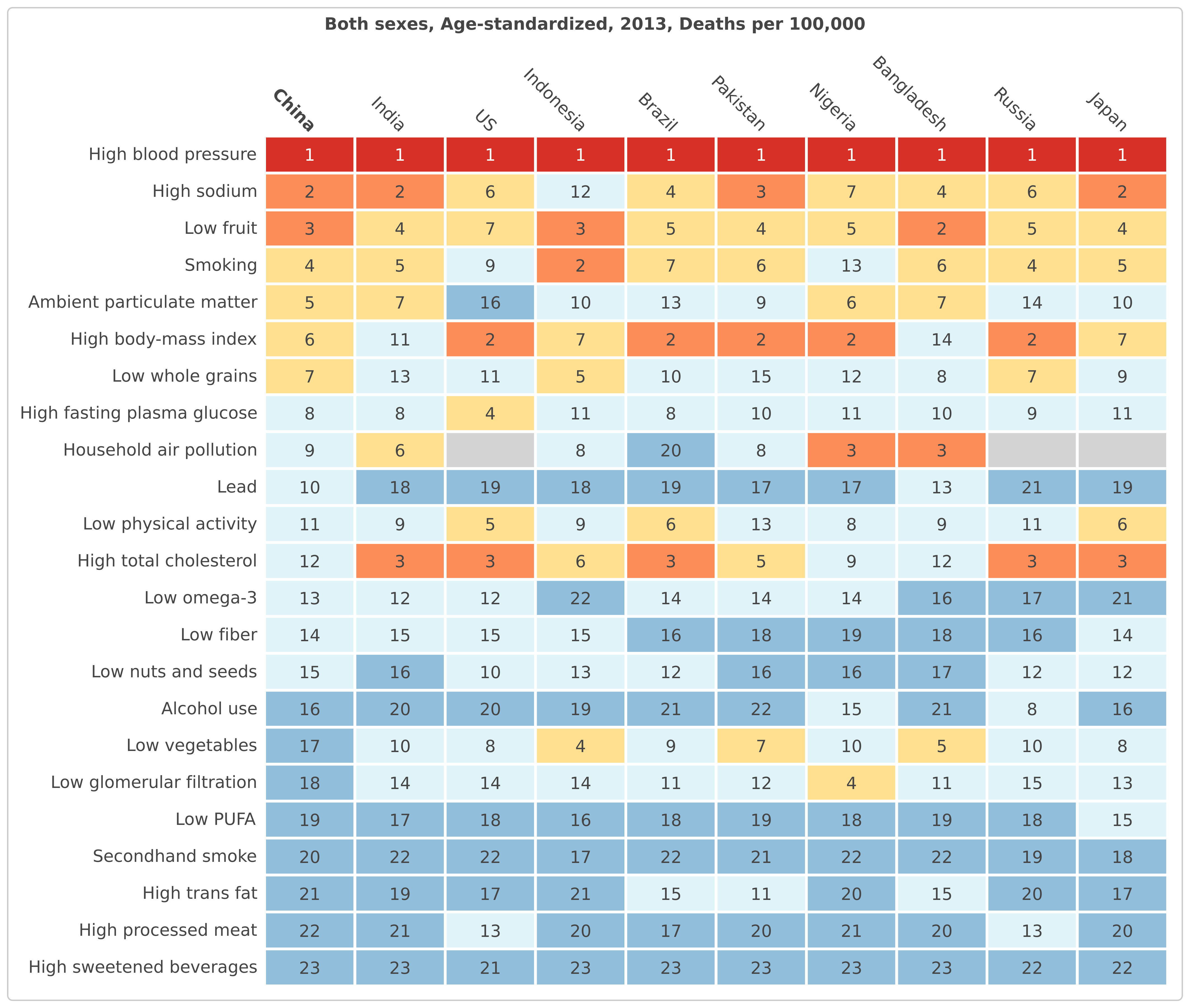 Regional, risk factor scenario projections
The AHA/WHF statement includes a number of region-specific projections for premature CVD deaths, if risk factor trends do or do not continue. For example, the authors project more than 1.5 million CVD-related deaths among men in Southeast Asia, East Asia, and Oceania by 2025 if risk factor trends continue – a 56% increase in the mean number of deaths between 2013 and 2025. However, if risk factors are reduced by 2025, the number of deaths would be 1.2 million.
The AHA/WHF paper also includes figures that show what could happen if factors targets are met by 2025. Globally, reducing the prevalence of elevated blood pressure by 25% would have the single biggest impact on CVD-related premature death in women aged 30 to 70 years, but to achieve the WHO target of a 25% reduction by 2025 would require achieving all risk factor targets.
"Aggressive strategies to achieve multiple WHO targets, especially for raised BP and tobacco control, will be required to meet the 25 by 25 overall goal," the AHA/WHF scientific statement notes. "Success is possible if the individual WHO targets are met and health care systems are strengthened."
However, meeting NCD risk factor targets could prove challenging, as NCDs have been historically underfunded, despite the burden they cause. Per GBD 2013, approximately 70% of deaths globally in 2013 were caused by NCDs. According to IHME's Financing Global Health 2015, in 2015 $480 million was allotted by governments, non-governmental organizations, and other sources to combat NCDs – just 1% of overall global health financing. In contrast, causes like HIV/AIDS and malaria received $11 billion (30%) and $2.3 billion (6%), respectively.
"While there are a host of reasons why the allocation of development assistance for health is complicated and at times controversial, the reality is that NCDs have yet to become a major focus for most international donors or development agencies," said Dr. Joseph Dieleman, Assistant Professor and leader of IHME's Financial Resources for Health team. "While the health burden attributable to CVD continues to rise, especially in low- and middle-income countries, the share of development assistance for health targeting NCDs has not been above 1% since 1995."
"We can clearly see what needs to be done over the next decade to reduce cardiovascular death worldwide," said IHME's Dr. Roth. "To have the greatest impact, we need to focus on the leading risk factors in each country. For most, that means healthier diets, more exercise, quitting tobacco, and less binge drinking of alcohol. But it also means investing in high-quality primary care and hospitals because many treatments for heart disease work well and can make a real difference."
To read more about the American Heart Association/World Heart Federation Scientific Statement, see Circulation. To explore Global Burden of Disease results and data, visit IHME's GBD Compare visualization and the Global Health Data Exchange.