CHTF is committed to providing exchange opportunities for social science researchers to collaboratively investigate trends and determinants of healthy aging. Our Visiting Scholar and Post-Doctoral Fellowship programs are launching a new generation of leading academic investigators situated at the intersection of health metrics, economics, and social sciences.
---
Visiting Scholars
Our Visiting Scholars program brings social scientists to the Center, housed at the Institute for Health Metrics and Evaluation (IHME), for hands-on personalized research training opportunities. Scholars will be drawn from institutions in countries interested in undertaking subnational analyses and international comparison aligned with the CHTF's aims. They will engage in methods development and estimation efforts with IHME researchers during their stay, aiding in cross-fertilization of new ideas, expanding the data available to multiple researchers, and producing papers on results seen previously.
We wish to emphasize longer and more sustained visits that allow for more regular daily contact and deeper dives into the available data, methods, and analyses wherever possible. Visiting Scholars have the opportunity to more fully understand the strengths and limitations of available population health data and social, economic, health system, and policy variables at the subnational level. They also are able to engage directly with other social scientists working at the Center, strengthening the overall network and the resultant research.
We will be announcing the next call for applications soon. For more information about the Visiting Scholar program, please contact the Center Program Manager at [email protected]. Read our Visting Fellow Spotlight below.
---
Postdoctoral Fellowship
CHTF's Postdoctoral Fellowship provides support, training, and mentoring for postdoctoral fellows and other incipient researchers to progress toward research independence. One postdoctoral researcher is selected annually through a global, competitive application process to apply their social science expertise to population health research in order to become independent academic faculty with research interests consistent with the Center's aims. We will post information about the next call for applications soon.
---
Visiting Fellow Spotlight
Yue Cai
Assistant Professor
Center for Health Statistics and Information, National Health and Family Planning Commission
Beijing, China
Yue Cai received her Master of Philosophy from the Chinese University of Hong Kong's (CUHK) School of Public Health in 2009, following the completion of a Bachelor in Medicine from the Capital Medical University School of Public Health in Beijing in 2006.
After graduating from CUHK, Yue worked with the Chinese CDC, collecting health data and analyzing death surveillance data. She now works with the National Health and Family Planning Commission, specializing in the analysis of birth, death, and inpatient record data.
We had a chance to ask Yue a few questions about her experience as a visiting scholar with the Center for Health Trends and Forecasts.
The Center for Health Trends and Forecasts is currently recruiting to fill several (up to six) short-term, full-time visiting scholar appointments. Click here to view the description and the application.
Which areas of population health are you most interested in?
I'm most interested in mortality rate, life expectancy, healthy life expectancy, and the economic burden of disease.
Which teams did you work with during your time as a visiting scholar with the Center for Health Trends and Forecasts?
I worked on three different projects while in Seattle. The first was with Dr. Haidong Wang and Jonathan Brown, estimating the real mortality rates of the Chinese population using death registration data and population registration data. The second project was with Dr. Mohsen Naghavi to analyze the Chinese vital registration data in the 1990's, comparing the disease map of the Chinese vital registration system with that of Chinese DSP system. The third project was led by Dr. Joe Dieleman, estimating the economic burden of cancer in China.
The results of both projects provide useful evidence for policymaking in China.
What are your impressions of the Visiting Scholar program?
They are very good. On one hand, the program expands the influence of IHME, while at the same time providing a platform for young scholars to learn with top experts in the field. This experience will absolutely profoundly influence future scholars' academic careers.
What skills did you develop during your visiting scholar experience?
I became very familiar with the methodology of the Global Burden of Disease study, and I gained great experience in drafting high-impact research papers. I was very impressed by the high level of work efficiency at IHME.
How did your experience as a visiting scholar influence your future career path?
At IHME, I was deeply impressed by people's work attitude – enthusiastic, concentrated, and highly efficient. It has given me a lot of positive energy, and I'm positive that energy will influence my career in population health profoundly.
Why is the work of the Center for Health Trends and Forecasts important in studying health and aging?
The research findings from the teams within the Center for Health Trends and Forecasts will provide useful information for governments to formulate impactful health policy.
What is your most fond memory while working with the Center for Health Trends and Forecasts.
All of the staff at IHME are patient and friendly. Jonathan treated me with delicious Italian pasta and helped me a lot in my Seattle life. Haidong also helped me a lot in my Seattle life, but also was influential in my academic life. I enjoyed my office mates Chris, Danny, and Awoke as well, and I miss them a lot.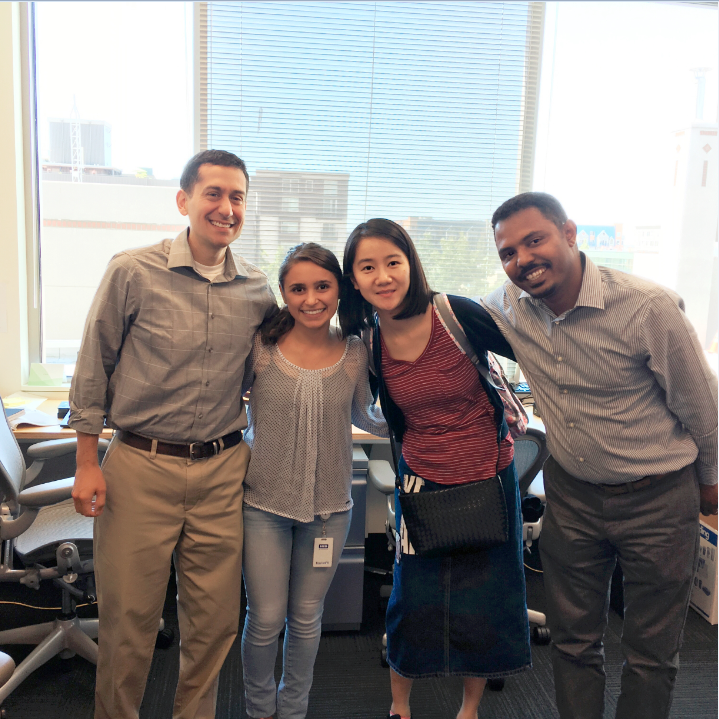 From left to right: Danny Colombara, Christian Razo, Yue Cai, Awoke Misganaw