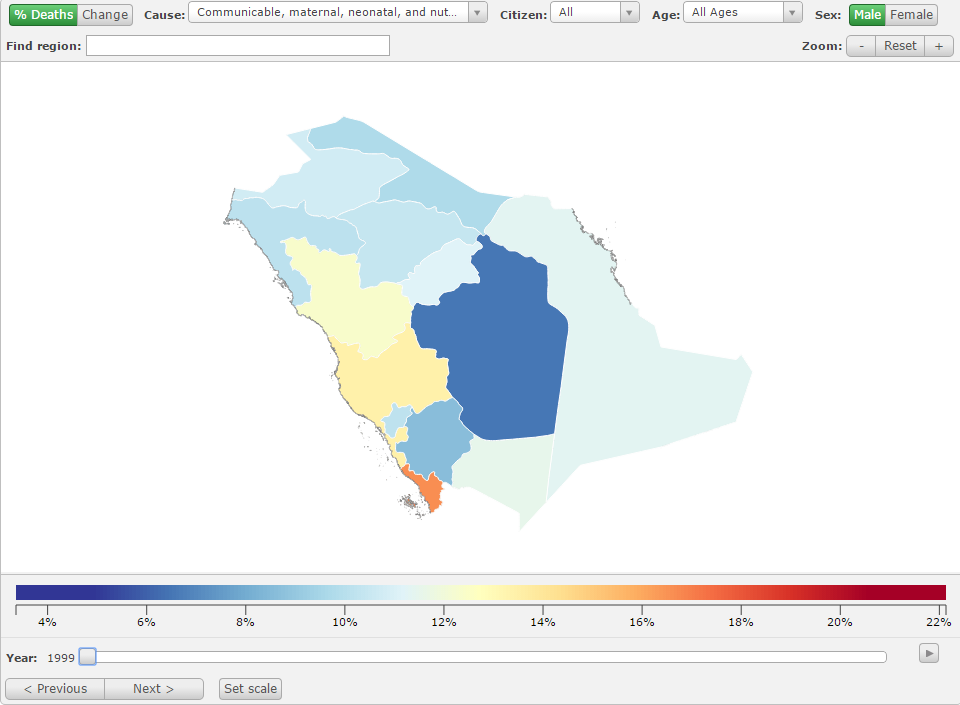 Interact with the data visualization
Explore deaths from communicable diseases, non-communicable diseases, and injuries for 13 regions of the Kingdom of Saudi Arabia by citizen type, age, and sex from 1999 to 2012.
BROWSER ISSUES
Use the latest version of Internet Explorer (currently IE10), Chrome, or Firefox.
Make sure to disable compatibility mode in Internet Explorer. In some cases, it renders a site unusable.
Use Ctrl+0 to reset the browser zoom. Sometimes having the browser zoomed in or out interferes with the layout or a few mouse-dependent properties.
If the visualization isn't loading or looks distorted, try clearing your cache. See http://www.wikihow.com/Clear-Your-Browser's-Cache for pointers.
Citation:
Institute for Health Metrics and Evaluation (IHME). KSA Viz. Seattle, WA: IHME, University of Washington, 2015. Available from http://vizhub.healthdata.org/ksa. (Accessed [INSERT DATE])
Related Content