The Local Burden of Disease project at IHME aims to produce estimates of health outcomes and related measures that cover entire continents, but to do so at a granular, local resolution. Such estimates will allow decision-makers to target resources and health interventions precisely, for maximum impact.
While global- and national-level estimates have been essential to understanding overarching trends in child mortality, infectious diseases, access to clean water, and other health-related topics, they can mask local variations within national borders.
That problem is visible in the figure below, which comes from some of the first work published by the project team. It shows the under-5 mortality rate within 46 countries in Africa. The national map portrays national-level under-5 mortality rates, while the second administrative level map portrays under-5 mortality rates for every second-level administrative division (for example, districts and municipalities) within each country.
The much greater detail in the second map reveals local variations within countries. In Nigeria, for example, under-5 mortality is substantially higher in the north than in the south. The national map obscures that fact.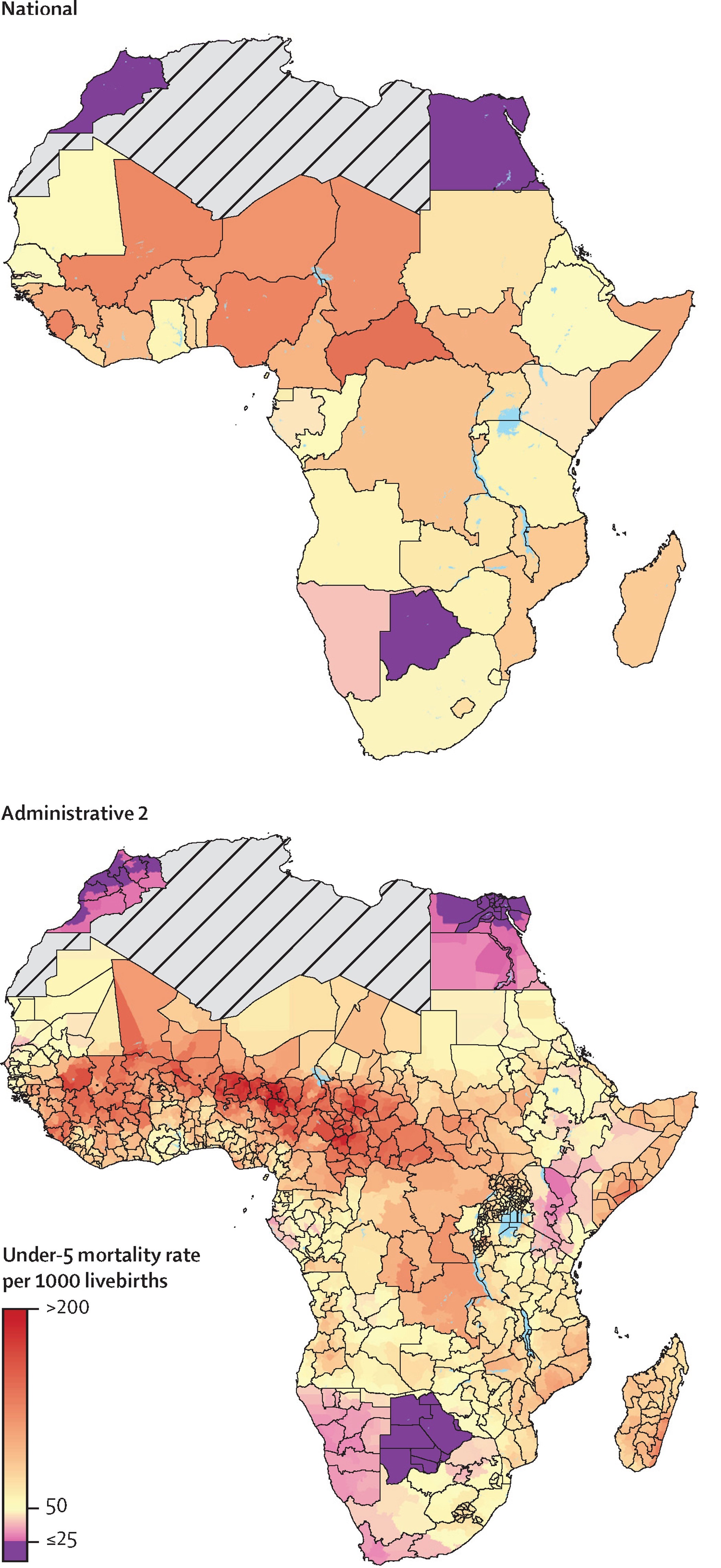 Mortality rates for children aged 0–5 years, 2015. Purple represents areas achieving the 2030 UN Sustainable Development Goal of under-5 mortality rates of 25 (or less) per 1,000 live births
Having access to local-level estimates allows health policy decisions to be tailored precisely for local areas rather than entire countries. Combining that level of detail with broad coverage – providing estimates for primary and secondary administrative subdivisions across entire continents – would give health officials everywhere the tools to make locally informed decisions.
With that goal in mind, IHME is estimating and mapping health-related measures that are of high importance in addressing worldwide health inequities and achieving the United Nations Sustainable Development Goals:
Under-5 mortality

Child growth failure (stunting, wasting, underweight)

Child overweight

Malaria (led by the Malaria Atlas Project, University of Oxford)

Diarrhea

Lower respiratory infections

HIV/AIDS

Exclusive breastfeeding

Anemia (in women of reproductive age)

Tuberculosis

Lymphatic

filariasis

Onchocerciasis

Schistosomiasis

Ebola and other hemorrhagic fevers

Education

al attainment

Oral rehydration therapy coverage

Household air pollution

Male circumcision

Pandemic potential of five emerging zoonotic infectious diseases

Vaccine coverage

Water, sanitation, and hygiene
In most of these cases – but not all – estimation and mapping efforts will begin in Africa, then move in stages to countries in Asia, South America, and the Middle East.
The Local Burden of Disease project is also convening a network of research collaborators. Currently, IHME collaborates with the Malaria Atlas Project (MAP) at the University of Oxford to produce estimates and maps on malaria. MAP, the world's leading producer of geospatial malaria estimates, is currently led by Dr. Peter Gething and was co-founded by Dr. Simon I. Hay, IHME's Director of Geospatial Science.
In accordance with the Guidelines for Accurate and Transparent Health Estimates Reporting (GATHER), all results from IHME's Local Burden of Disease research, along with comprehensive information on data sources and methods used, are made freely available to the public.
IHME is building a library of geo-located health data sources to power analyses of local disease burden. It shares data, to the extent allowed by usage agreements, with other researchers and interested parties. Anyone interested in inquiring about the data used by the Local Burden of Disease team – or in sharing data to be used in its analyses – is invited to email us at [email protected].
Jump to: