There are many ways that researchers and health officials could utilize local health estimates and mapping, but the most important potential application is, perhaps, as a tool for "precision public health."
Precision public health has been described in detail elsewhere. In short, it is the aspirational idea that public health solutions can, in the near future, be designed, delivered, and evaluated at the local level. Having locally accurate health estimates is a key part of realizing the precision public health vision.
With local information, for example, a country's health officials could tailor health solutions to each state, district, or even town within that country instead of adopting a one-size-fits-all approach to solving its health problems. They could take into account local medical, infrastructural, and cultural conditions when planning health interventions – and do so for every corner of their country.
These kinds of precision public health practices are not yet happening everywhere, but they are happening on a small scale in locations around the world, with positive results. If we invest more in the tools and infrastructure to support precision public health, the potential payoff in health improvement is immense.
Health-related maps will be an important tool for precision public health. They will allow health officials to track, target, and treat health problems in unprecedented ways. Some of those ways could be: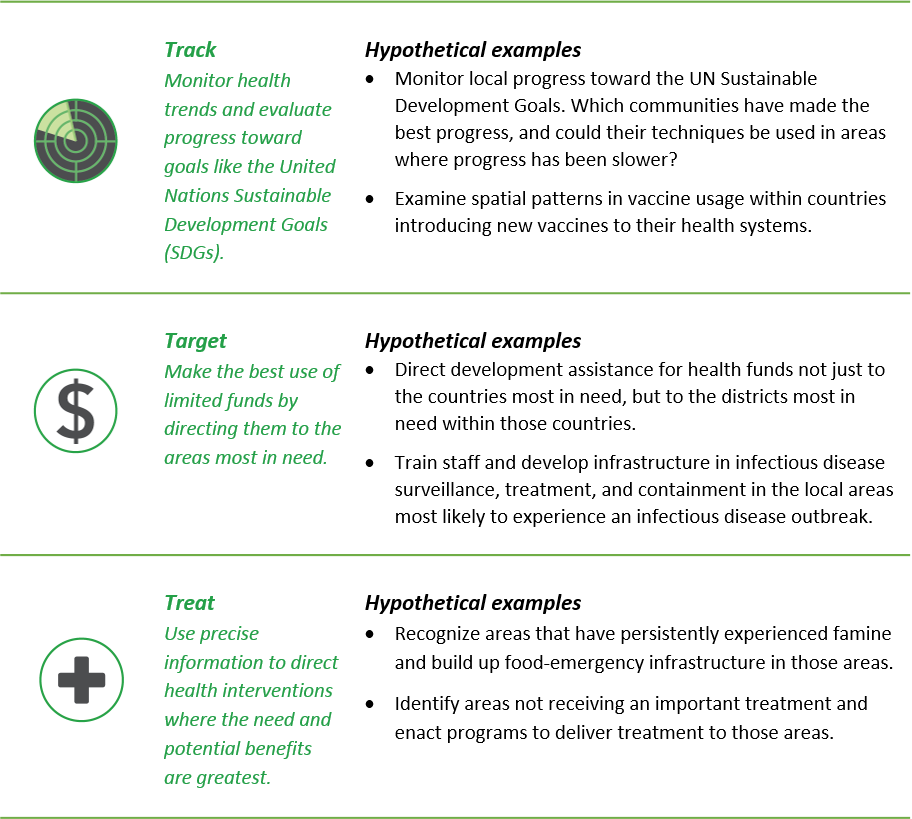 Because there are so many ways in which health is affected by geography, the potential uses for local health estimation and mapping are both numerous and highly impactful. That wide potential for application means that local health estimation and mapping have the potential to improve health interventions, reduce inequities, and help all people – irrespective of where they're from – live longer, healthier lives.
Jump to: