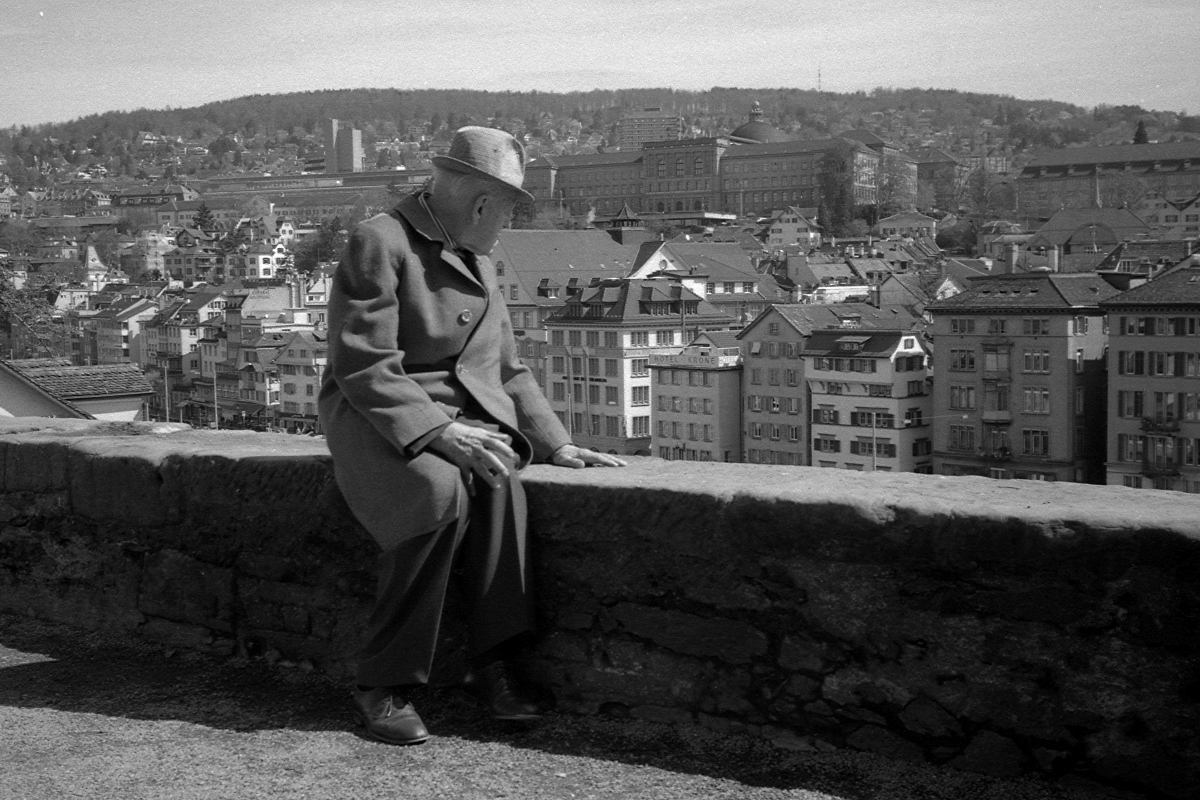 Photo by Stefan Bucher/Flikr Creative Commons. Switzerland, 1998
More and more people in countries including the United States, Canada, and Germany, countries with large and increasing older populations, are suffering from the debilitating dementia of Alzheimer's disease. A new study by IHME researchers, "Global, regional, and national age-sex specific all-cause and cause-specific mortality for 240 causes of death, 1990-2013: a systematic analysis for the Global Burden of Disease Study 2013," has found high-income or Western countries are not alone in facing growing burdens of Alzheimer's – a larger proportion of the global population than previously thought has been dying from this disorder.
Alzheimer's is one of the most common diseases that cause dementia, which leads to a loss of cognitive abilities, including reasoning, thinking, and remembering. Alzheimer's is an irreversible, progressive brain disease that eventually destroys the ability to carry out the most basic tasks of daily living. While treatments to manage symptoms are available, Alzheimer's has no cure.[1]
The risk of Alzheimer's increases with age. This means that as people around the world live longer, the proportion of the population with Alzheimer's grows as well. In countries with larger aging populations – many high-income countries, and increasingly middle-income countries as well – Alzheimer's is gaining a more prominent presence among causes of disability and death.
The number of dementia deaths worldwide has more than doubled since 1990 – from about 795,000 in 1990 to nearly 1.7 million in 2013. In 1990, Alzheimer's ranked 44th globally among causes of premature death; in 2013, it had risen to 29th.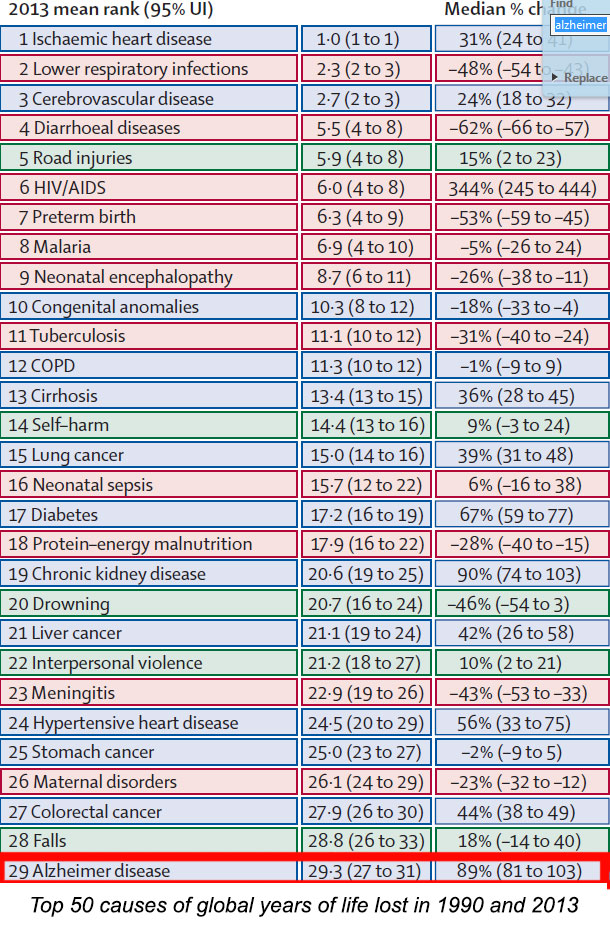 Policymakers need an accurate measure of mortality from Alzheimer's and other dementias to help guide decisions. The study's researchers contend, "our finding that the number of dementia deaths is increasing implies that governments should remain concerned about the rising demands for care that will come with population aging."
The researchers used a new approach to estimate mortality from Alzheimer's and other dementias. It focused on measures of people living with Alzheimer's and used data from 23 high-income countries with high-quality vital registration systems to estimate the number of people dying from the disease. The new approach was taken because in the past Alzheimer's was often misclassified or not identified as a cause of death, meaning that the vital registration records used to determine national and global mortality trends listed a different cause than Alzheimer's or other dementias. This misclassification happened often enough that the number of deaths due to Alzheimer's and other dementias appeared much lower during the 1990s and early 2000s than was actually the case.
The new estimation approach has dramatically lowered the estimated increase in deaths from Alzheimer's and other dementias between 1990 and 2013. In other words, the study found that there were considerably more dementia deaths during the 1990s, especially in middle-income countries, than previously thought. In addition, even in high-income countries with complete medical certification of causes of death, the study found that dementia had been systematically underestimated as a cause of death in the 1990s.
The study found that of all causes of early death in 2013, Alzheimer's caused the fifth-most years of life lost in developed countries. The disease was a leading cause of premature death in 44 countries in North America, Latin America, the Caribbean, and across Europe. In Canada, Finland, and Israel, Alzheimer's and other dementias caused the third-largest number of premature deaths, after ischemic heart disease (IHD) and lung cancer (in Canada and Israel) and IHD and stroke (in Finland).
Globally, the study estimated that Alzheimer's and other dementias were responsible for about 3% of all deaths in 2013. In several countries, however, it caused more than 10% of all deaths in 2013: Finland (13%), Italy (11.4%), Iceland (10.9%), Switzerland (10.8%), Canada (10.8%), and the US (10.5%).
Looking at total deaths, we can get a better understanding of which countries account for the largest share of global deaths due to Alzheimer's. The study found that the countries with the largest numbers of Alzheimer's deaths in 2013 were geographically varied but mostly in the higher-income category: the US, China, and India all had over 100,000 deaths in 2013; Germany, Italy, Russia, Japan, United Kingdom, Brazil, and Spain all had over 40,000 Alzheimer's deaths that year.
Middle-income countries in Southeast Asia, Eastern Europe, the Middle East, and elsewhere carry an increasingly large burden of Alzheimer's deaths. Indonesia, Ukraine, Mexico, Poland, Turkey, Vietnam, Thailand, Argentina, Pakistan, Bangladesh, and Iran all had more than 10,000 deaths from Alzheimer's in 2013.
Part of what drives China and India to the top in terms of total numbers of Alzheimer's deaths is their enormous populations – Alzheimer's and other dementias actually made up a small proportion of total deaths in both countries in 2013 (just over 2% in China, and about 1% in India).
When we adjust for differences in population growth and ages across countries, we gain insights about how countries are performing with respect to one another in the growing burden of this disease. Finland, Uruguay, and the US were the countries with the highest Alzheimer's death rates in 2013, each with more than 45 deaths per 100,000 people.
The places with the largest relative increases in Alzheimer's deaths are mainly in developing regions, but increases are happening everywhere. Cambodia, Afghanistan, Eritrea, Niger, Venezuela, Dominican Republic, Nicaragua, Thailand – as well as Singapore and South Korea – saw greater than 200% increases between 1990 and 2013.
The numbers of deaths from Alzheimer's and other dementias are not declining in any country. As populations in every country age, we can expect that the proportion impacted by dementia will continue to grow. Governments will have to prepare for the expanding need for services and programs for people with dementia. Regular updates to the Global Burden of Disease study will permit countries worldwide to monitor how their populations are being affected by this disease.
Amy VanderZanden
Communications Data Coordinator