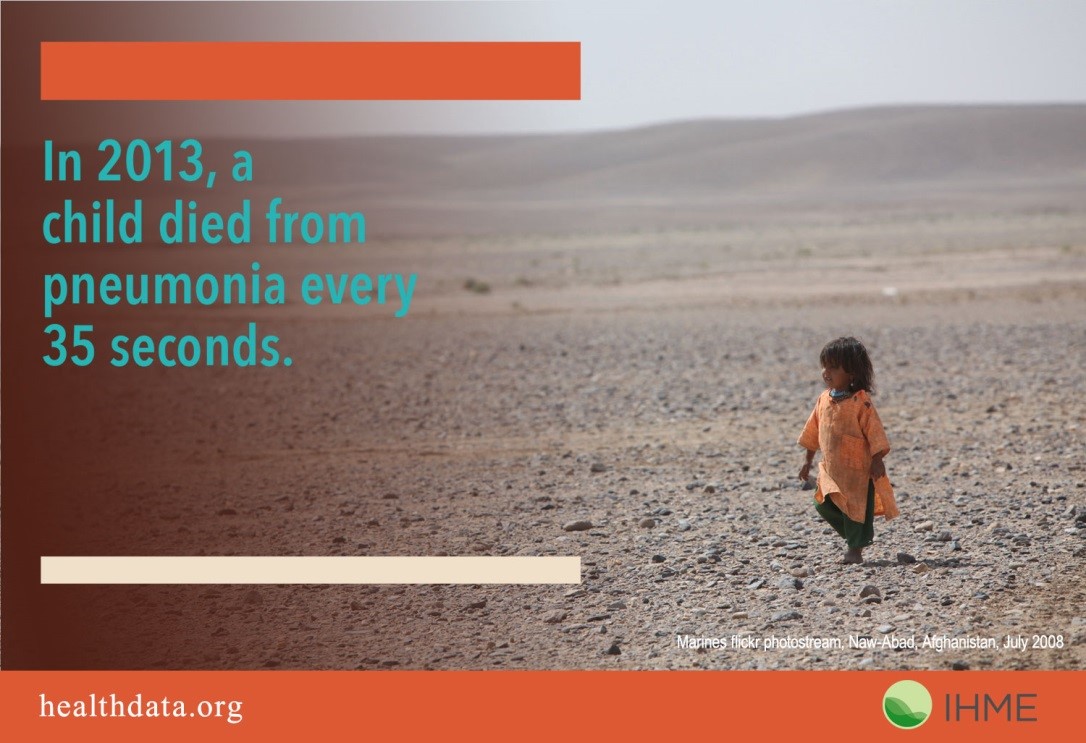 Behind every IHME paper or report lies a different story of how it came to be – a tale of a surprising results-turned-research project, a saga of many years of improving research methods. And sometimes, that story starts with an unexpected email.
In September, Leith Greenslade contacted IHME about the possibility of producing a report focused on childhood pneumonia, a product that would launch in tandem with the celebration of World Pneumonia Day on November 12. A longtime actor in the global health and development space, Greenslade serves as Vice Chair of the Millennium Development Goal (MDG) Health Alliance at the Office of the UN Secretary General's Special Envoy for Financing the Health MDGs. She wanted to partner with IHME to publish a data-driven, highly visual report that considered the various dimensions of childhood pneumonia – its global burden, financing trends, and intervention needs.
"Resource mobilization and policy decisions in global health are shaped by a lot of factors," explains Greenslade. "But it's the disease burden evidence that should be the most influential factor, and when you have data from an independent source and you show those data in visually compelling, accessible ways – well, it can be a powerful wake-up call for policymakers. It's hard to ignore that kind of evidence."
Even though the production turnaround would be tight, IHME welcomed the opportunity to work with the MDG Health Alliance on the pneumonia report.
The pneumonia report also benefited from contributions by key individuals at PATH and UNICEF. Dr. Keith Klugman, who leads the Pneumonia Team at the Bill & Melinda Gates Foundation, wrote the report's foreword, generously providing his expertise and views about the global pneumonia landscape.
The report links IHME's data on disease burden to its global health financing results and ongoing research on health service delivery. This structure proved to be quite successful, providing the foundation for more disease-specific reports in the future.
"This is the kind of report I've been hoping to produce at IHME for a while – a shorter and focused, visually driven publication that really brings together the full range of research we do here: disease burden, health financing, and health service delivery," says William Heisel, IHME's Director of Communications. "Working with the MDG Health Alliance brought this kind of project to reality, and we're all excited about the impact it's already having."
Along with the report, IHME participated in a World Pneumonia Day event hosted by PATH. IHME Acting Assistant Professor Joseph Dieleman spoke on the health funding landscape for pneumonia, joining a panel of global health leaders from PATH and the Bill & Melinda Gates Foundation to discuss the global burden of childhood pneumonia and ways to effectively address this disease.
The findings were also presented to a number of child health leaders and development partners at a recent meeting in Washington, DC. Greenslade and partners plan to use these data over the next year to inform global financing priorities worldwide.
Perhaps it shouldn't be surprising that something as seemingly simple as an email from a few months ago could already result in a well-received report, strong new partnerships, and broader policy discussions about how to accelerate improving child health. It's a good reminder that rewarding, impactful collaborations can emerge at any time – and that their collective works in global health just might make a difference.
Read or download Pushing the Pace: Progress and Challenges in Fighting Childhood Pneumonia.
Nancy Fullman
Policy Translation Specialist