"Antimicrobial resistance is one of the greatest health threats humanity faces today," says WHO Director-General Dr. Tedros Adhanom Ghebreyesus. As we enter World Antimicrobial Awareness Week, now is the time to take a closer look at the effect of rising antimicrobial drug use on the world. While antibiotics have undoubtedly had positive impacts on global health, reducing child deaths by nearly 80% between 2000 and 2017, it is critical that they are used properly.
Antimicrobial resistance occurs when drugs like antibiotics are misused or overused, causing the bacteria, parasites, viruses, or fungi they are meant to treat to change over time so they no longer respond to the medication. One common driver is patients stopping a course of antibiotics prematurely when they begin to feel better, which can give the drug-resistant pathogens time to multiply and spread. Poor-quality medicines that have insufficient active ingredients are another culprit in antimicrobial resistance.
As health professionals seek to spread awareness of the dangers of antimicrobial resistance, it is helpful to examine the global landscape of antibiotic use and how it has changed in recent years. A new study from IHME found a nearly 50% increase in global antibiotic consumption between 2000 and 2018, and large differences between regions.
High-income countries have maintained elevated use of antibiotics over the past two decades, and the North Africa and Middle East region has experienced notable increases, even surpassing high-income countries. While low- and middle-income countries have lower consumption overall, they too have seen a significant rise, particularly in Eastern Europe and Central Asia. 
Temporal trends in the total antibiotic consumption rates for GBD super-regions and World Bank income groups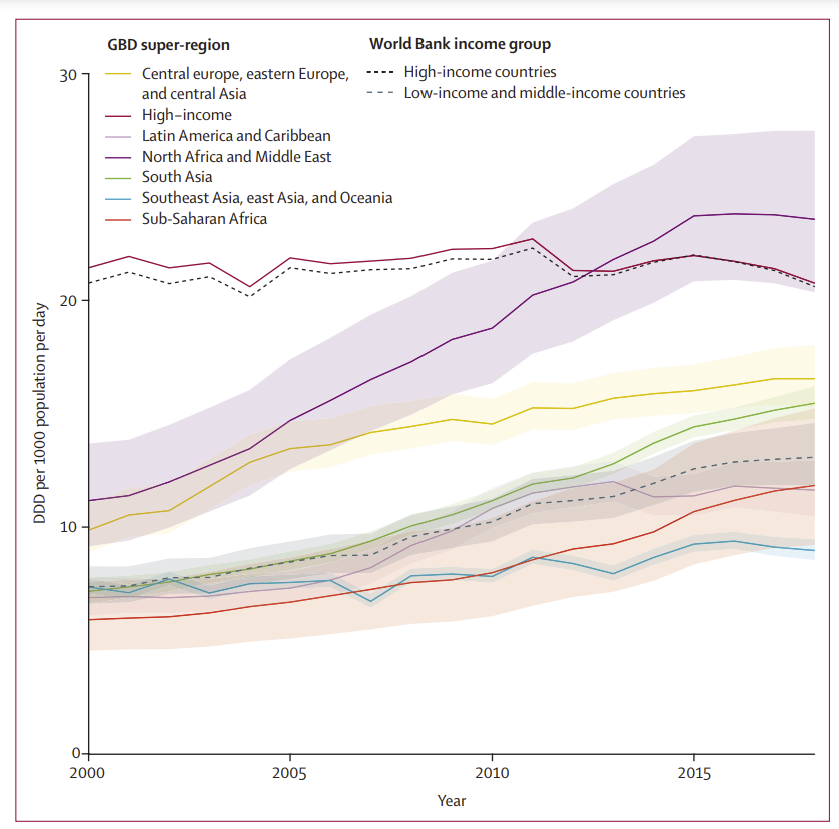 Source: Global antibiotic consumption and usage in humans, 2000–18: a spatial modelling study published in The Lancet
Specifically in North Africa and the Middle East and in South Asia, researchers noted large increases in the use of fluoroquinolones (for example, ciprofloxacin [Cipro]) and third-generation cephalosporins, while high-income regions had the greatest consumption of broad-spectrum penicillin.
Even as antibiotic overuse continues to be a major contributor to antimicrobial resistance, the study highlights major disparities between and within low- and middle-income countries, as some regions still grapple with the problem of low access to antibiotics. For example, the lowest rates globally were seen in The Philippines and parts of sub-Saharan Africa where child mortality due to insufficient antibiotic treatment is still a large problem.
Like many other health sectors, research on antimicrobial resistance has been sidelined throughout the COVID-19 pandemic, but it remains critical for supporting global health. Let's use this week to Spread Awareness, Stop Resistance.
Read IHME research on antimicrobial resistance:
Want to receive IHME updates straight to your inbox? Subscribe to our newsletter here.
Related Content