What is GBD and why is it important?
The Global Burden of Diseases, Injuries, and Risk Factors Study (GBD) is the single largest and most detailed scientific effort ever conducted to quantify levels and trends in health. Led by the Institute for Health Metrics and Evaluation (IHME) at the University of Washington, it is truly a global effort, with over 9,000 researchers from more than 160 countries and territories participating in the most recent update.
GBD creates a unique platform to compare the magnitude of diseases, injuries, and risk factors across age groups, sexes, countries, regions, and time. For decision-makers, health sector leaders, researchers, and informed citizens, the GBD approach provides an opportunity to compare their countries' health progress to that of other countries, and to understand the leading causes of health loss that could potentially be avoided, like high blood pressure, smoking, and household air pollution.
IHME provides GBD results in visualization tools, allowing people to interact with the vast amounts of data and the trends they identify. These unique tools are beneficial when trying to identify specific information for age groups, sexes, causes, risks, and comparison to other regions.
To read about GBD findings, view the publication summaries or download individual GBD country profiles.
To interact with the results data and explore the findings, visit the data visualizations.
What countries are in each region?
GBD created regions based on two criteria: epidemiological similarity and geographic closeness. To see a full list of countries and their corresponding regions, visit the GBD data and tools guide.
For some types of analysis in the GBD, seven super-regions have been established, which group regions on the basis of cause of death patterns. The image below shows which regions belong to each super-region.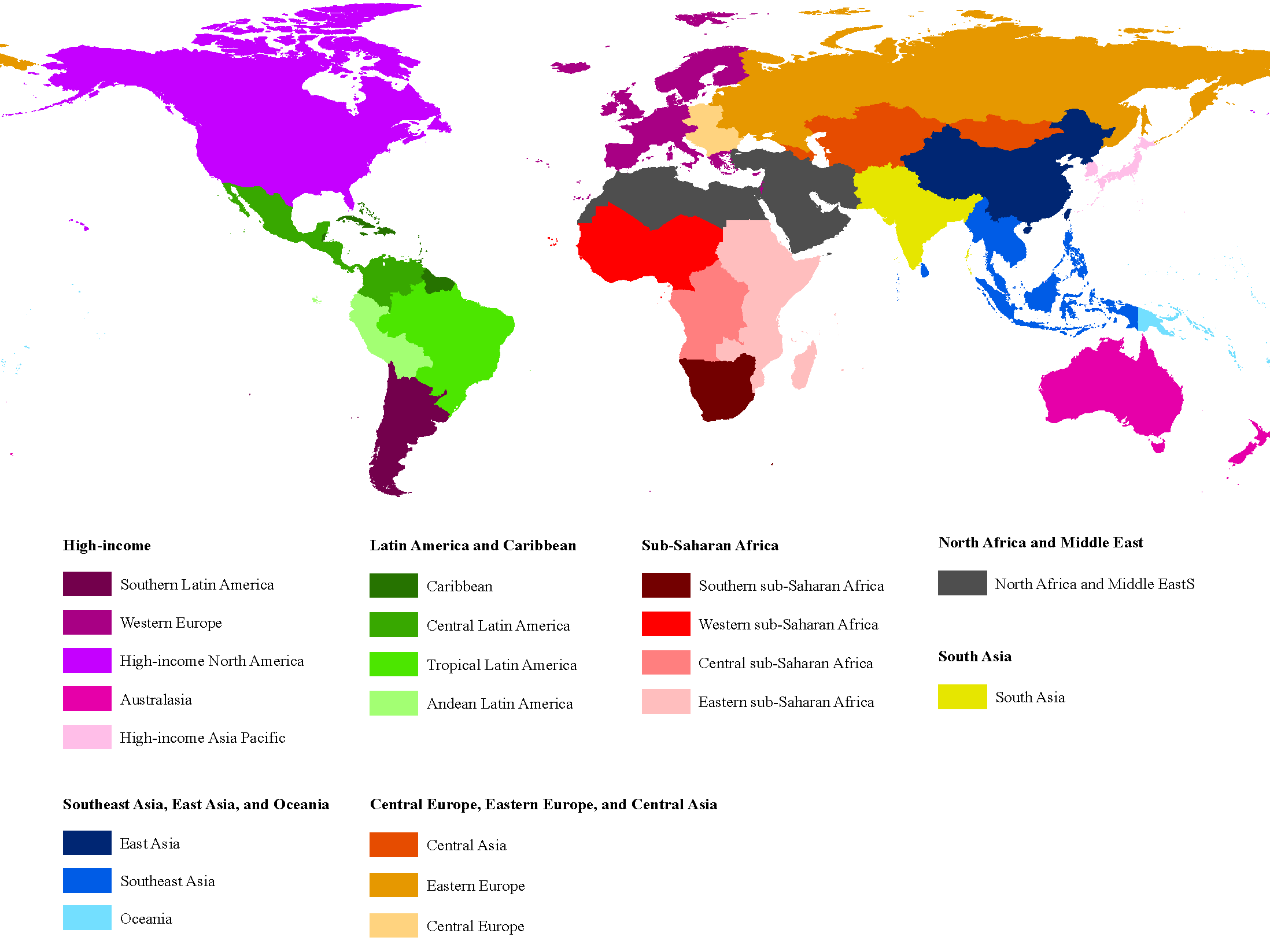 How can I find the results for my country?
You can download country profiles that summarize the major GBD findings.
Also, IHME has created interactive data visualizations, hands-on tools that allow the viewer to explore IHME's data using charts that update based on viewer selections. Visit IHME's data visualizations to begin your interactive experience.
Why aren't the data visualizations working on my computer?
Due to the extensive data accessible in IHME's data visualizations, they require time and internet bandwidth to load. If you are having trouble loading a visualization, we suggest that you refresh the page. We also suggest that you access the visualizations with the most up-to-date version of your internet browser. Use the links below to identify the recommended versions of these internet browsers. The visualizations work best in Chrome and Internet Explorer 10.