---
The impact of HIV/AIDS
Although the HIV/AIDS epidemic reached its peak in magnitude in 2005, more than 35 million people are living with HIV worldwide currently. As of 2019, sub-Saharan Africa is the region most disproportionately affected by the HIV/AIDS virus, accounting for
74.0% of global HIV-related deaths
64.9% of new HIV infections
The overall infection rate for HIV/AIDS has been falling globally, in part thanks to intervention techniques. Some examples of successful interventions for HIV/AIDS include
antiretroviral therapies (ART)
prophylaxis
prevention of mother-to-child transmission
Over the past 20 years, HIV has become a manageable chronic illness for people who can be tested and treated.
Video: discussing HIV/AIDS in Africa
Combating HIV/AIDS: funding and fiscal policy
Billions of dollars are spent every year to fight HIV/AIDS in low-income countries. IHME tracks funding for interventions globally through our Financing Global Health work.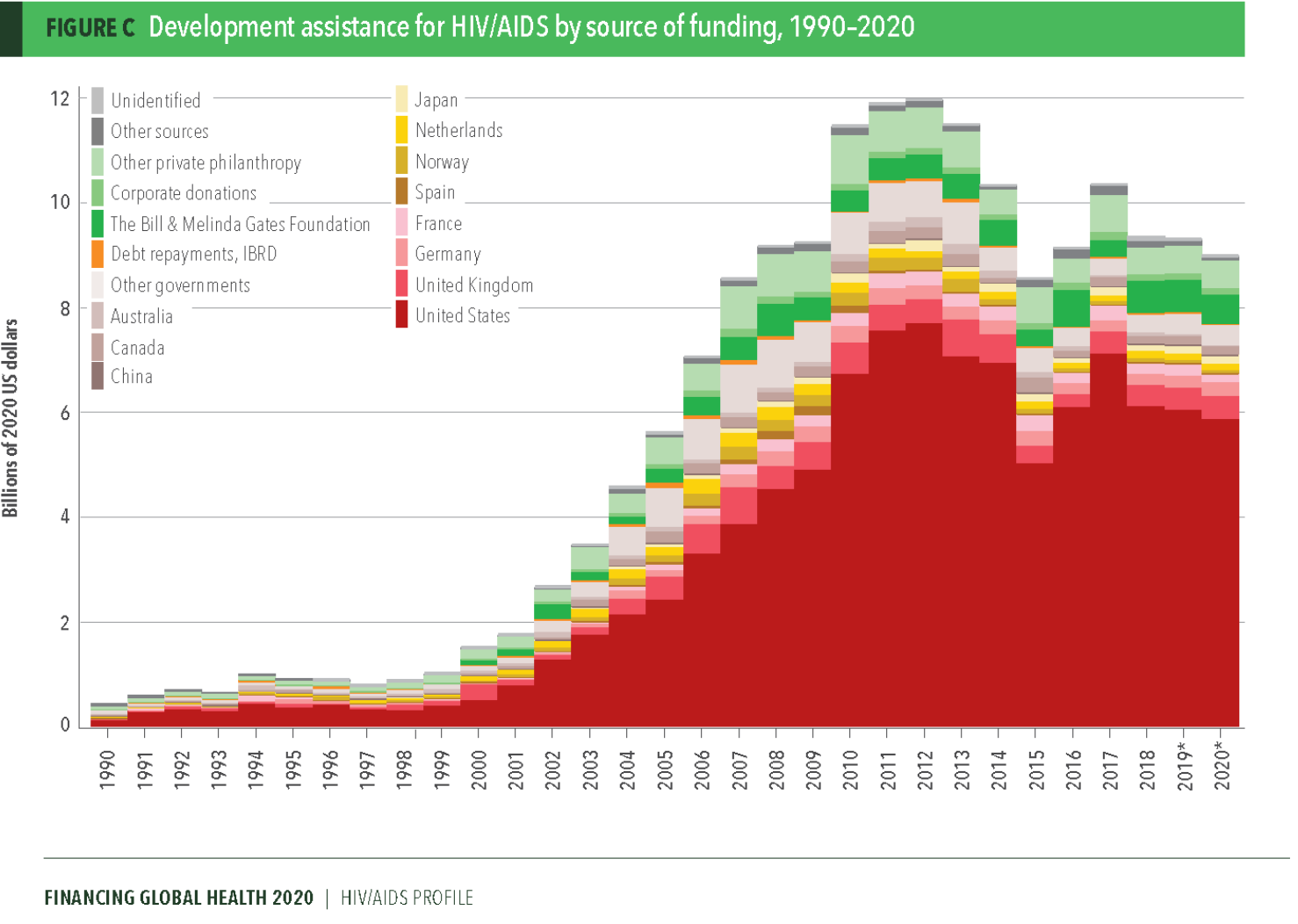 Explore the HIV/AIDS financial data →

Download the data on HIV/AIDS
The Global Health Data Exchange (GHDx) catalogs health-related data for users to view and download. Users can filter by data types, keywords, organization, and other categories.
View HIV/AIDS dataset records →

The GBD Summary for HIV/AIDS provides mortality and prevalence statistics and is available as a PDF file.
View the GBD Summary for HIV/AIDS →

Featured resources
This study assesses the current sex-specific HIV burden in 204 countries and territories and measures progress in the control of the epidemic.
A new scientific paper reveals striking variation in HIV prevalence at provincial and district levels. The paper, published in Nature, provides precise geographic estimates of HIV prevalence and numbers of people living with HIV to identify priority areas for health care support to reduce the burden of HIV.
This study assesses the time trends of tuberculosis mortality across Brazil, Russia, India, China, and South Africa (BRICS) with an emphasis on HIV status from 1990 to 2019.
Analyze updated data about the world's health levels and trends from 1990 to 2019 in this interactive tool using estimates from the Global Burden of Disease (GBD) study. Compare causes, injuries, and risks within a country, compare countries with regions or the world, and explore patterns and trends by country, age, and gender.
Explore local patterns of HIV mortality in Latin America from 2000 to 2017 with this interactive visualization tool.
Explore local patterns of HIV prevalence, incidence, and mortality from 2000 to 2018 among individuals aged 15-49 with this interactive map visualization.