Diabetes is an increasingly important health threat in many African countries, and is fast becoming a leading cause of non-communicable-disease-related death and disability on the continent. A new report by IHME, launched in Nairobi at the Pan African World Diabetes Day Forum, is helping the Kenyan Ministry of Health frame its strategy for tackling the disease.
In Kenya, the burden of diabetes is rising: in 2015, over 872,000 Kenyans had the condition, compared to just 283,000 in 1990, and health loss attributable to diabetes increased by more than 100% in that period.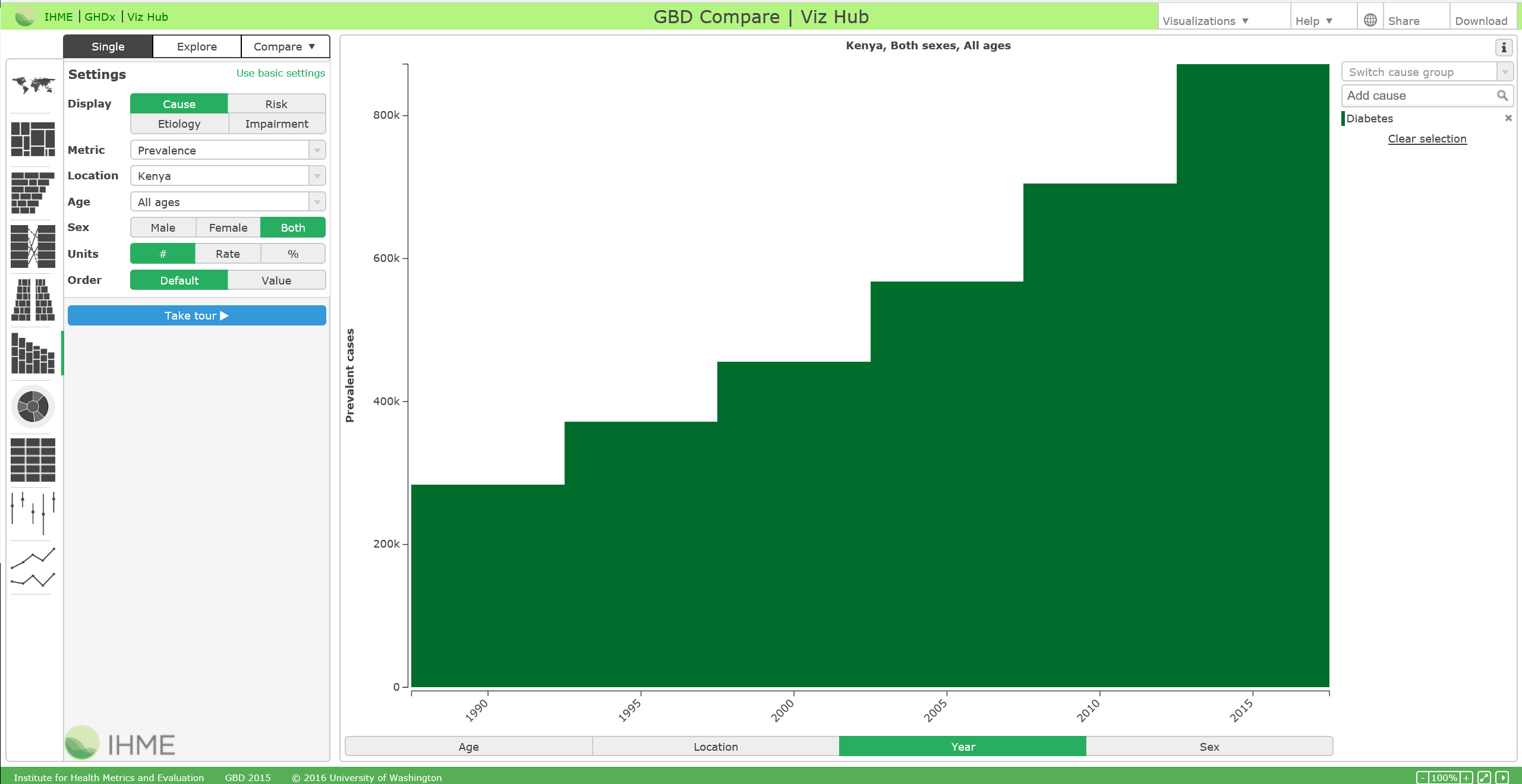 [2]
Diabetes prevalence in Kenya, 1990–2015
Trends like this have been captured in IHME's latest report, Health transitions in Africa: Evaluating the rise of diabetes and cardiovascular disease. Using data from the 2015 Global Burden of Disease (GBD) study, the report shows a dramatic increase in diabetes in sub-Saharan Africa over the past 25 years, part of a broader shift toward higher rates of non-communicable disease brought about by aging populations, urbanization, and rapid changes in diet and activity patterns. Diabetes is now a substantial contributor to premature death and poor health in many countries in this region, and this burden is frequently higher than expected given their level of socioeconomic development.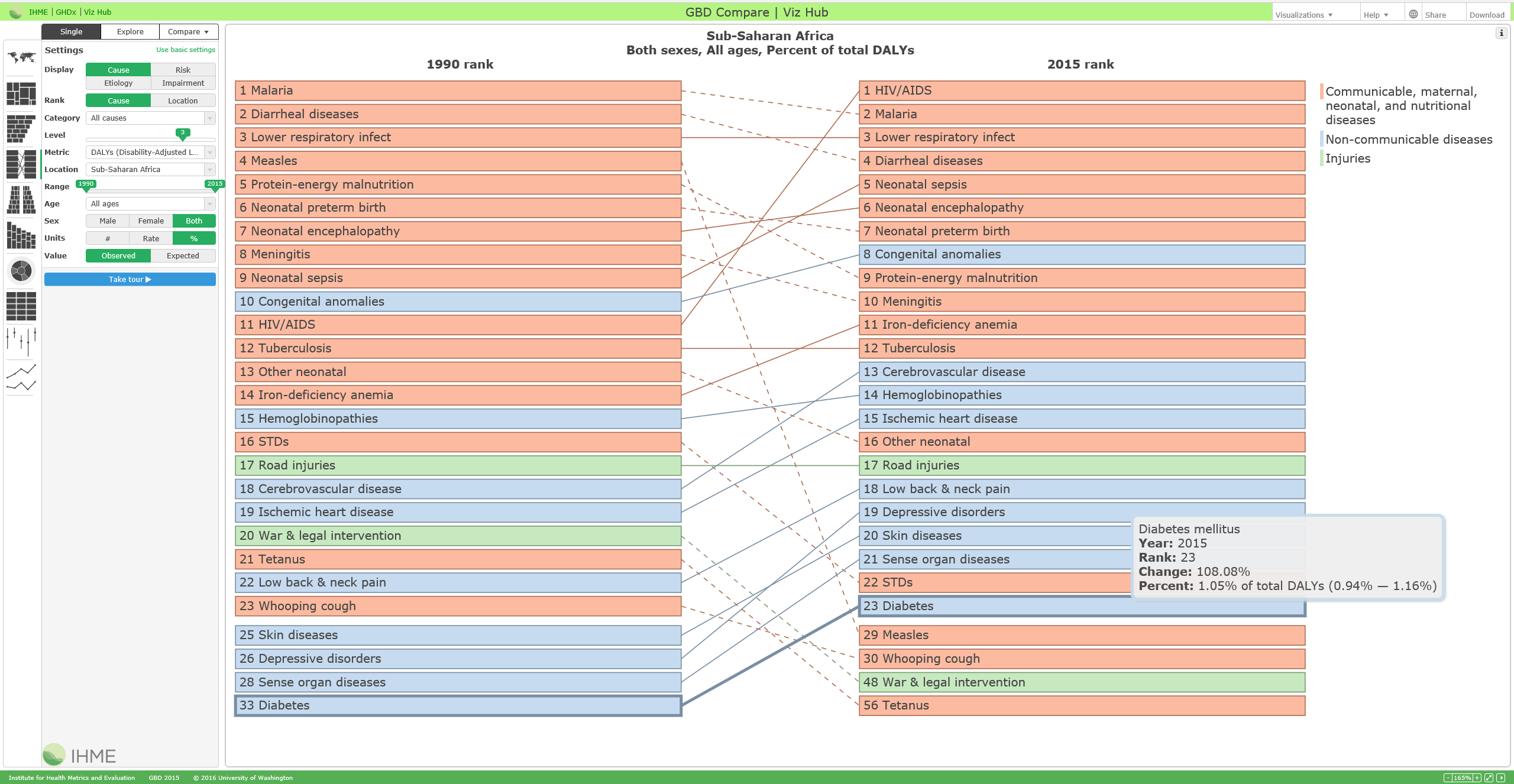 [3]
Change in relative ranking of causes of health loss in sub-Saharan Africa, 1990–2015
In response to these findings, Dr. Joseph Kibachio, Head of the Division of Non-Communicable Diseases at the Kenyan Ministry of Health, used the Forum as an opportunity to raise awareness of diabetes and its major risk factors. Noting that many people are not even aware that they have the condition, he encouraged Kenyans to go for early testing, to ensure timely diagnosis and reduce the risk of developing serious complications such as blindness or loss of limbs later down the line. He also urged people to commit to positive lifestyle changes such as healthy eating, increased exercise, and cutting back on smoking and alcohol consumption.
Concrete changes are being made in the Kenyan health system, too. Dr. Kibachio inaugurated a specialized diabetes center at Nakuru Provincial Hospital, the third of its kind in Kenya. The Ministry of Health is now looking to roll out more facilities like this, particularly given the increasing burden of diabetes demonstrated in the report.
The report also sparked discussion on potential legislative measures for tackling diabetes. While securing universal access to treatment is a priority, managing diabetic patients can be expensive. As such, preventive measures that target leading risk factors have a very important part to play. Dr. James Nyikal, the Member of Parliament for Seme Constituency who was also in attendance, stated that legislatures should enact laws to modify these risks, calling for strong political support to bolster the work being done by health professionals.
Speaking at the Forum, the President of the International Diabetes Federation, Dr. Shaukat Sadikot, said, "Diabetes is not a silent epidemic; what we are facing is a tsunami of diabetes. A few years ago the major cause of blindness was Vitamin A deficiency in children. We are now talking about diabetes in adults. We have to look back and rethink our strategies in order to help our people." Kenyan policy-makers are using the findings from IHME's report to do just that, continuing to demonstrate how timely, rigorous evidence can help governments to understand and respond to new health challenges.