In Sweden, the Department of Public Health Sciences, Karolinska Institute, and the Center for Epidemiology and Community Medicine (CES) collaborated with IHME to develop estimates for the burden of disease in Stockholm County. These are now a key feature of the county's Public Health Guide, which serves as a valuable reference for Stockholm's government and civil society as they work to promote health and prevent disease.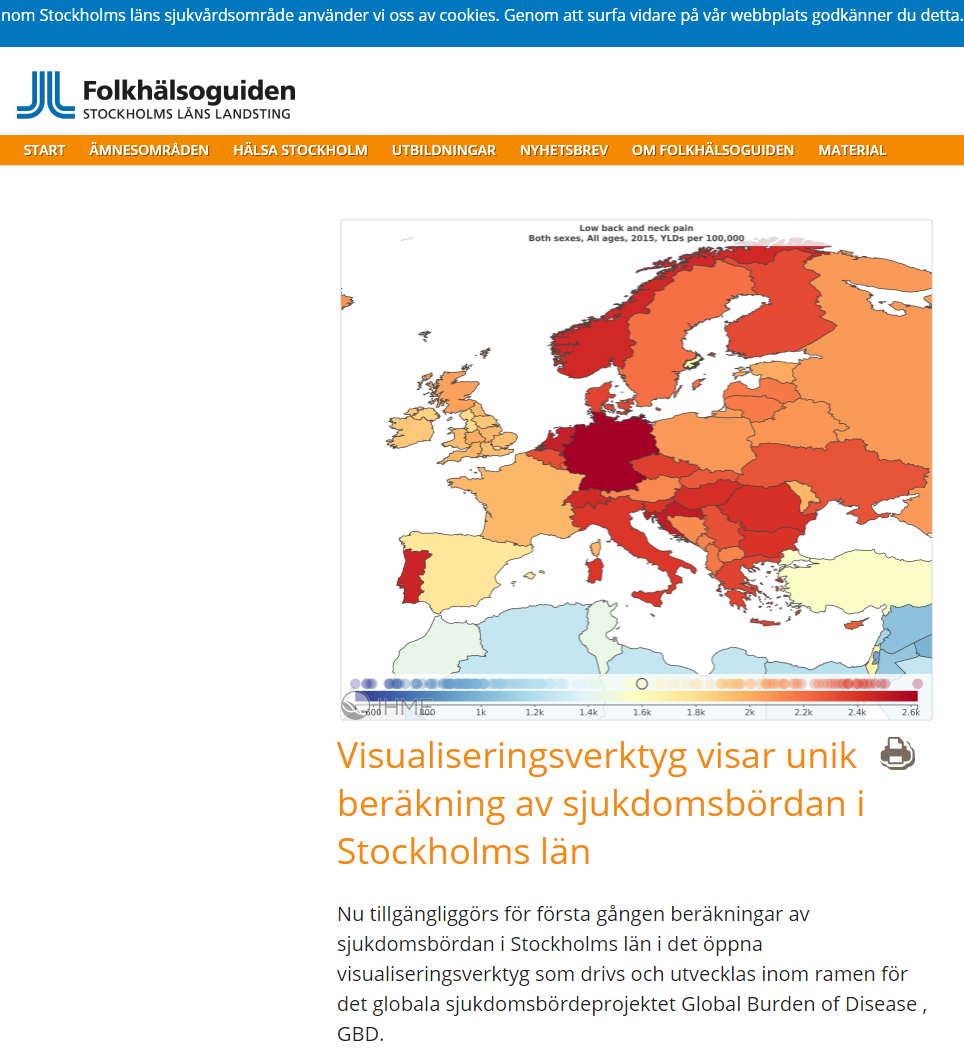 Stockholm's Public Health Guide website features an image from the GBD Compare visualization tool
The Guide provides information on a variety of risk factors and health topics, including occupational health, mental health, child and adolescent health, and health equity. Its focus is guided by disease burden – the site includes targeted information for important risk factors, such as dietary risks, tobacco, and alcohol and drug abuse. According to the Global Burden of Disease study (GBD), these were among the top five risk factors for early death and disability in Stockholm County in 2015.
Top risk factors for early death and disability in Stockholm County, 1990 and 2015, both sexes
Aiming to inform and connect, the site provides information for county resources, such as the Center for Occupational and Environmental Medicine or a Quit Smoking Support Line. Additionally, this new site refers visitors to IHME's GBD Compare, a data visualization tool, which now reports on 315 causes and 79 risk factors that lead to death and disability in Stockholm County.
GBD data was also the focus of Stockholm County Council's Public Health Report 2015, featured on the new website. Highlighting the diseases and injuries that cause the highest disease burden in Sweden, such as cardiovascular diseases and cancers, the report intends to guide health care interventions and decision-making.
Sweden is one of 11 countries in the world that has burden of disease data at the subnational level. Experts in Stockholm County have used these GBD estimates to reveal that targeting behavior and lifestyle choices and prioritizing interventions for non-communicable diseases could significantly reduce death and disability in their county. Visitors to the county's new Public Health Guide are now able to learn about disease burden in their region and access resources to promote behavioral changes and disease prevention, while policymakers may use the subnational estimates to target their decision-making.