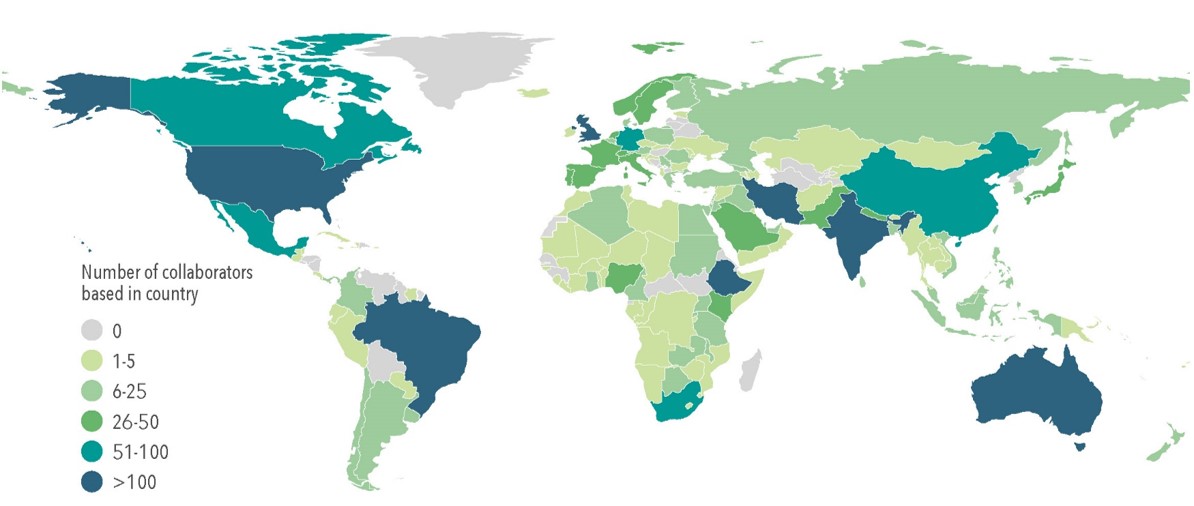 The Institute for Health Metrics and Evaluation (IHME) at the University of Washington engages a large network of individual collaborators with specialties in various topic areas to conduct the Global Burden of Diseases, Injuries, and Risk Factors Study (GBD) and its affiliated projects. GBD is a systematic, scientific effort to quantify the comparative magnitude of health loss due to diseases, injuries, and risk factors by age, sex, and geographies for specific points in time and is the largest and most comprehensive effort to date to measure epidemiological levels and trends worldwide. Collaborators are critical in both the data analysis as well as the policy uptake and proliferation of GBD and affiliated projects.
IHME serves as the coordinating center for the GBD study and affiliated projects. We are always working to expand the collaborative network. Through scientific publications, policy reports, and online data visualizations, GBD and affiliated projects allow decision-makers to compare the effects of different health conditions. GBD has generated substantial scientific, policy, and even general public interest across high-, middle-, and low-income countries.
We continue to build and sustain an even larger and more diverse network of Collaborators from around the world with expertise in demography, specific diseases, injuries, risk factors, and impairments, the epidemiological profile of individual countries, health financing, geospatial analysis, and health systems. The role of the Collaborator is to review and provide timely feedback and suggestions related to interpretation of results, data sources, and/or methodological approaches pertaining to their area of enrolled expertise. Many have co-authored publications. Collaborators include researchers, clinicians, epidemiologists, global health practitioners, demographers, health economists, and statisticians, among others.
Enrollment is now open to join the collaborative network. Collaborators may be enrolled in one or more topic areas of expertise. IHME will engage collaborators on topics according to the areas of expertise they specify in the GBD Collaborator application form.
A detailed GBD protocol is available here. After reading the protocol, if you are interested in participating, please visit the following URL to apply: https://uwhealthmetrics.co1.qualtrics.com/jfe/form/SV_af64vQKJ3NQmvM9. All applications to be a GBD Collaborator will be carefully considered, taking into account the existing needs.
To contact the GBD Management Team, please email [email protected].