COVID-19: What's New for May 26, 2020
Main updates on IHME COVID-19 predictions since May 25, 2020
Updated COVID-19 estimates for the US
Today's release focuses on the latest COVID-19 predictions for the US; for a more in-depth exploration of other locations included to date, please refer to the May 25 estimation update. COVID-19 estimates for the US include input data through May 23.
Each state's results can be explored further via our online visualization tool, which now allows for examining estimates:
In counts (total) or rates (per 100,000 population)
With or without uncertainty
For different periods of time (e.g., between March and May to date, or through August)
For a single location or multiple locations at the same time
Geographically via map options
Key US findings from today's release
COVID-19 deaths
Nationally, total COVID-19 deaths have likely exceeded 100,000 on May 26, with predictions of 100,907 COVID-19 deaths (estimate range of 99,066 to 105,525) today. By August, COVID-19's cumulative toll could be 131,967 (estimate range of 115,839 to 173,528) in the US.

To date, nearly 30% of the US COVID-19 deaths have occurred in New York state. Only two countries – the United Kingdom and Italy – have experienced a higher death toll from COVID-19 than New York. States with more than 5,000 COVID-19 deaths to date and their predictions through August are summarized below.
Location

Total COVID-19 deaths to date (estimates to May 26)

Predictions for cumulative COVID-19 deaths through August

United States (national)

100,907 (99,066 to 105,525)

131,967 (115,839 to 173,528)

New York

29,465 (29,375 to 29,593)

30,832 (30,407 to 31,401)

New Jersey

11,527 (11,424 to 11,740)

13,654 (12,898 to 14,647)

Massachusetts

6,637 (6,484 to 7,097)

8,232 (7,477 to 10,016)

Pennsylvania

5,504 (5,327 to 6,009)

7,679 (6,690 to 10,165)

Michigan

5,321 (5,230 to 5,441)

5,801 (5,428 to 6,208)

Illinois

5,228 (5,057 to 5,634)

7,628 (6,239 to 11,155)

Results as of 05/26/2020
© 2020 IHME
See terms and conditions of use, https://bit.ly/3aK1FSO
As of May 26, seven states are estimated to have experienced average COVID-19 death rates of at least 50 per 100,000 people. These states are New York, New Jersey, Connecticut, Massachusetts, Louisiana, Rhode Island, and Michigan (see screenshot below).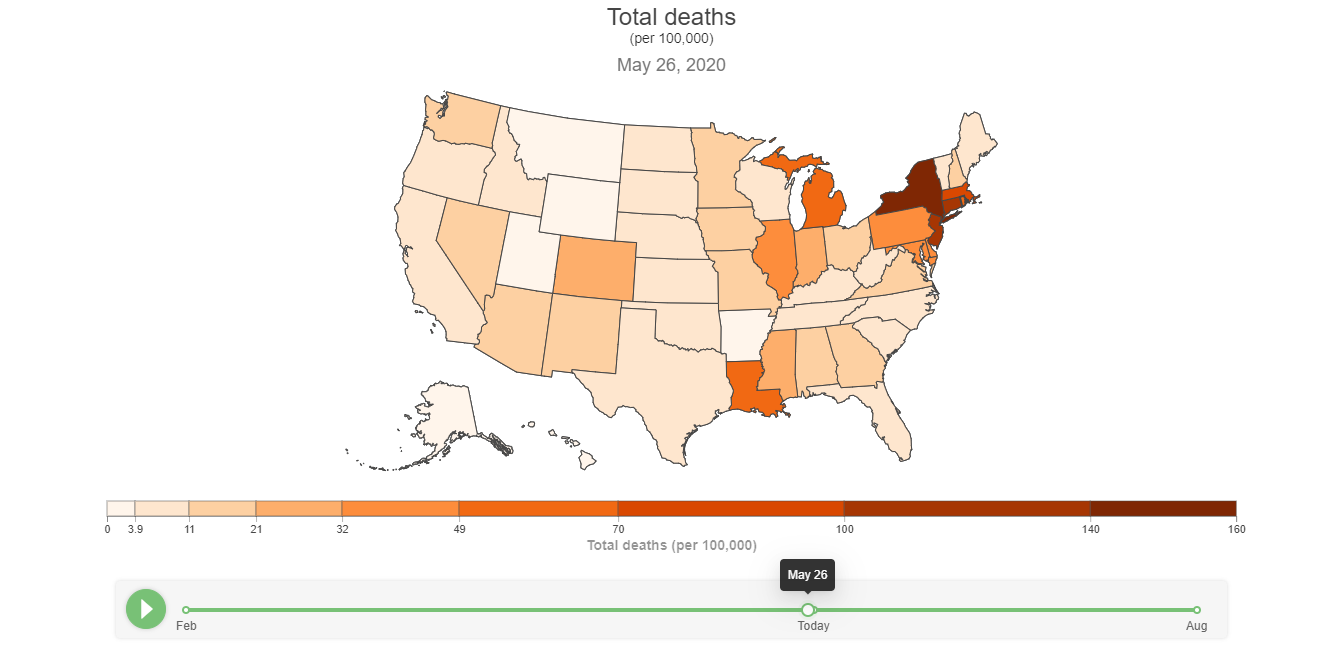 COVID-19 infections and testing
Currently, the highest rates of estimated COVID-19 infections appear to be occurring in Rhode Island, Iowa, Massachusetts, and New Jersey.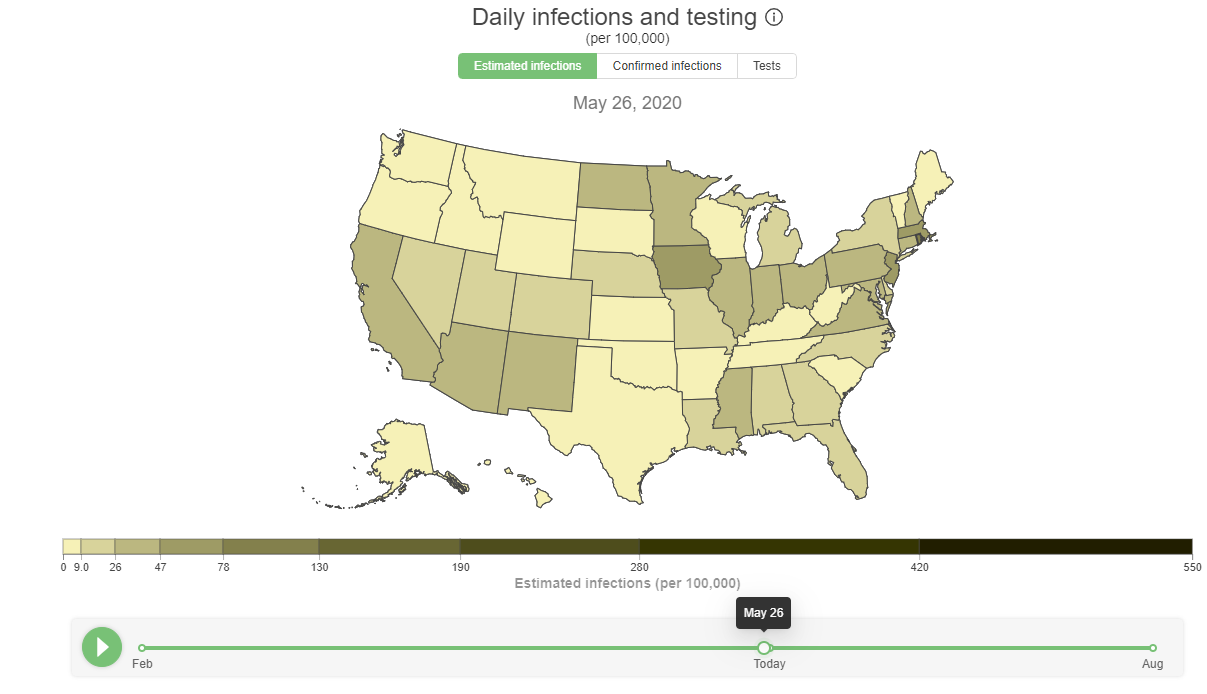 As of May 26, estimates of COVID-19 testing rates indicate that Rhode Island, Kentucky, New Mexico, North Dakota, Michigan, Massachusetts, and New York have among the highest levels of testing in the US (see screenshot below). In all three of these states, estimated levels of testing have surpassed estimated infections for some time now – a key factor in supporting timely disease detection and response.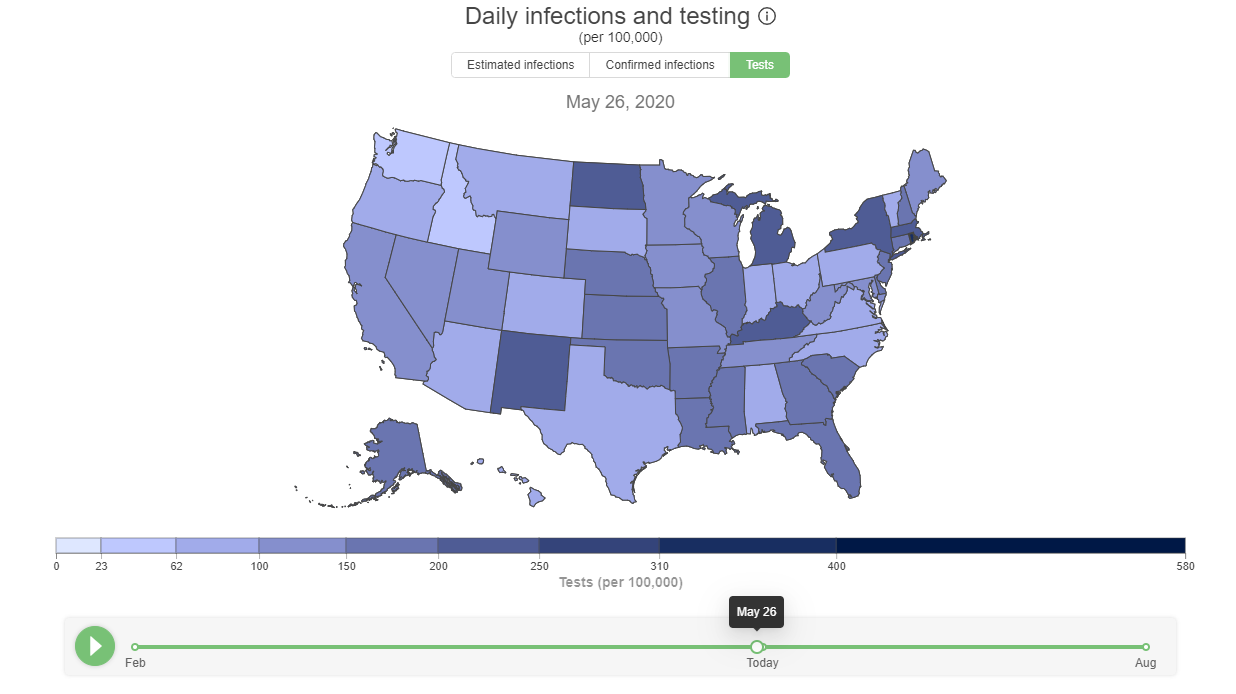 At the same time, a number of states with higher COVID-19 infections per 100,000 – or those with projected increases in infections – have only more recently narrowed gaps in testing relative to estimated infections. These include Maryland, New Jersey, and Pennsylvania, as well as the District of Columbia.

Gaps in timely testing for COVID-19, especially among vulnerable populations, can result in undetected transmission of the virus and thus heightened risk for infection, clusters of cases, and potentially even resurgence.
Changes in mobility in relation to social distancing policies
As of May 26, at least 20 states are now experiencing mobility patterns that are only 10% to 30% lower than baseline levels. One month earlier – April 26 – mobility was at least 35% to 40% lower in most states.

How exactly increasing human mobility in the US might relate to heightened viral transmission remains to be seen. For instance, if rising mobility corresponds with strict adherence to recommended health behaviors (e.g., maintaining at least 6 feet between individuals in any gathering, wearing cloth masks or face coverings in public areas), it is possible that the relationship between human mobility and viral transmission will weaken. Yet, if human mobility, and then contact, increases without adequate precautions, risk of COVID-19 transmission could easily escalate.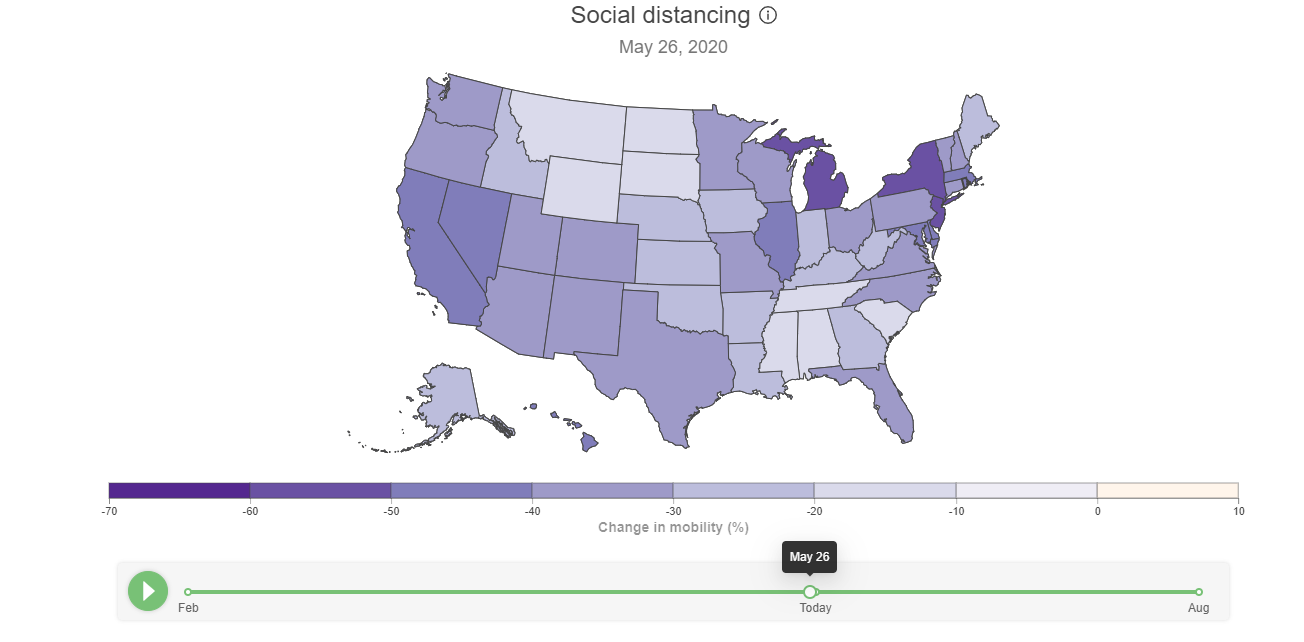 Methods updates since our last release on May 25, 2020
We continue to use the multi-stage hybrid model, as introduced on May 4, for currently included locations. Ecuador and now Peru are the main exceptions, where we use all-cause mortality and compute excess mortality to then estimate COVID-19 deaths; more detail is provided in the May 12 estimation update.
What's in the development pipeline for IHME COVID-19 predictions
Before we introduce new model components or improvements to our current analytical platform for predictions, IHME's COVID-19 development team members test these additions or changes.
Based on currently available data and model testing progress, our immediate- and medium-term priorities are as follows:
Model updates. Our team is working on model improvements across our COVID-19 estimation platform, particularly in terms of the death model and the transmission dynamics component of our broader modeling approach. We hope to introduce these modeling updates soon.

Initial COVID-19 projections for additional countries. Data collation and processing for a wider set of locations and countries worldwide are in progress. We are currently working on adapting our prediction model to countries that have experienced more than 50 total COVID-19 deaths to date. With the increasing recognition of under-counting of COVID-19 deaths in many locations, we are exploring methods that can approximate excess mortality and incorporate such estimates into our COVID-19 models.

Additional key epidemic drivers. Pending data availability across currently included locations, we are exploring how to incorporate additional model covariates such as mask or face covering use by the broader public, human contact rates, household size, and use of public transit, as well as exploring whether trends in diseases such as pneumonia can be used to predict trends in COVID-19. As discussed in our May 18 estimation update, we have made progress in estimating mask use in the US; work is ongoing to further improve its measurement and identify data sources for additional locations.
A note of thanks
We would like to extend a special thanks to the Pan American Health Organization (PAHO) for key data sources; our partners and collaborators in Argentina, Brazil, Chile, Colombia, Cuba, the Dominican Republic, Ecuador, Egypt, Honduras, Israel, Japan, Malaysia, Mexico, Moldova, Panama, Peru, the Philippines, Russia, Serbia, South Korea, Turkey and Ukraine for their support and expert advice; and to the tireless data collection and collation efforts of individuals and institutions throughout the world.
In addition, we wish to express our gratitude for efforts to collect social distancing policy information in Latin America to University of Miami Institute for Advanced Study of the Americas (Felicia Knaul, Michael Touchton); Fundación Mexicana para la Salud with support from the GDS Services International: Tómatelo a Pecho A.C.; and Centro de Investigaciones en Ciencias de la Salud, Universidad Anáhuac (Héctor Arreola-Ornelas); Lab on Research, Ethics, Aging and Community-Health at Tufts University (REACH Lab) and the University of Miami Institute for Advanced Study of the Americas (Thalia Porteny).
Further, IHME is grateful to the Microsoft AI for Health program for their support in hosting our COVID-19 data visualizations on the Azure Cloud.
For all COVID-19 resources at IHME, visit http://www.healthdata.org/covid.
Questions? Requests? Feedback? Please contact us here.
Previous posts: March 30, 2020 | March 31, 2020 | April 1, 2020 | April 2, 2020 | April 5, 2020 | April 7, 2020 | April 10, 2020 | April 13, 2020 | April 17, 2020 | April 21, 2020 | April 22, 2020 | April 27, 2020 | April 29, 2020 | May 4, 2020 | May 10, 2020 | May 12, 2020 | May 18, 2020 | May 25, 2020