COVID-19: What's New for August 7, 2020
View this update as a PDF here.
IHME's latest COVID-19 forecasts indicate that the US will reach nearly 300,000 deaths by December 1, 2020. If mask wearing in public increases to 95%, more than 66,000 lives could be saved.
Other major findings include:
Infections decreasing in some hot spots: Florida, Texas, California, and Arizona have brought effective R below 1. Cases and hospitalizations have peaked but deaths are still rising. We expect deaths to rise for another week and then level off. The peaking of transmission in these states appears to be driven by the combination of local mandates for mask use and bar and restaurant closures, along with more cautious behaviors from the public. Media reports of increasing case numbers and deaths seems to be associated with more cautious behavior by the individuals in these communities in response to these trends. This will be an important mechanism throughout the coming year and will likely lead to oscillations in the epidemic in various states.
New hot spots: Based on cases, hospitalizations, and deaths, transmission of COVID-19 is increasing in 11 states: Colorado, Idaho, Kansas, Kentucky, Mississippi, Missouri, Ohio, Oklahoma, Oregon, Virginia, and Wisconsin. These states may experience increasing cases for several weeks. We hope to see a behavioral response toward more cautious behavior in these states soon.
Mask use increasing thanks to mandates, penalties, and messaging: Since July 15, 12 states have added mask mandates. Our statistical analysis of mask mandates suggests that a mandate with no penalties is associated with an 8 percentage point increase of mask use, and a mandate with penalties is associated with a 15 percentage point increase. These efforts and public information have led to an increase in the US rate of mask wearing by about 5 percentage points since mid-July. Mask wearing increases have been larger in states with larger epidemics.
Test, trace, and isolate likely no longer feasible in many states: The population protective effect of testing, which is meant to capture the impact of a test, contact trace, and isolate strategy is estimated in the model by examining the relationship between testing per capita and effective R. The strength of this relationship is getting weaker over time. In settings with large-scale transmission, test, trace, and isolate strategies are likely infeasible because of the huge volume of contacts. These strategies are likely more important in settings where other measures such as mask wearing or mandates have reduced transmission to quite low levels.
Transmission likely to increase in winter months: Our estimate of the effect of seasonality remains large, implying that we should expect to see a substantial increase in transmission, all other things being held equal, in the winter months. The large number of forecasted deaths that we estimate in the month of November in the reference scenario, nearly 45,000 deaths in one month, is driven substantially by this seasonal increase in transmission potential along with an assumption of further relaxation of mandates.
23 states likely need to re-impose mandates before December 1: In our model, we assume that states will re-impose a package of mandates including non-essential business closures and stay-at-home orders when the daily death rate reaches 8 per million. This threshold is based on the 90th percentile of when states/locations imposed mandates in March and April. This threshold implies that many states will have to reimpose mandates. If they do not, the number of infections and deaths can be much higher, and this is captured by our mandates easing scenario. More specifically, our model suggests that the following states will be at the point where they will need to reconsider re-imposing mandates:


August: Arizona, Florida, Mississippi, South Carolina
September: Georgia, Texas
October: Colorado, Kansas, Louisiana, Missouri, Nevada, North Carolina, Oregon
November: Alabama, Arkansas, California, Iowa, New Mexico, Ohio, Oklahoma, Utah, Washington, and Wisconsin.
If mask use is increased to 95%, the re-imposition of stricter mandates can be delayed 6-8 weeks on average.
7. We may be over-estimating the impact of schools re-opening on transmission: We currently assume that 50% of school districts in each state will opt for online instruction only. As data emerge on actual decisions, we will incorporate this into future revisions of our model. We also assume the impact of school re-openings on mobility will be of the same magnitude as the impact of school closures in March, but in the opposite direction. Given mask use, likely restrictions on after-school activities, and avoidance of social engagement related to schools by some parents, our estimated impact of school openings may be overly pessimistic.
8. Lack of data sharing by the US government hampers our research: Our understanding of the drivers of the pandemic beyond mask use, mobility, testing, and seasonality is hampered by the lack of access to data. US CDC has many relevant datasets on the pandemic that they have refused to share with the research community. The switch of data reporting from US CDC to the US HHS has had little impact on our models since neither group is sharing much of their data with the research community. Some data that are critical to monitoring the response to the pandemic, such as mask use, are only collected through private-sector initiatives such as surveys conducted by Facebook, Premise, and SurveyMonkey. Federal government efforts to fill these critical data gaps have been limited to date.
The new death projections and other information, such as hospital resources usage, are available at https://covid19.healthdata.org.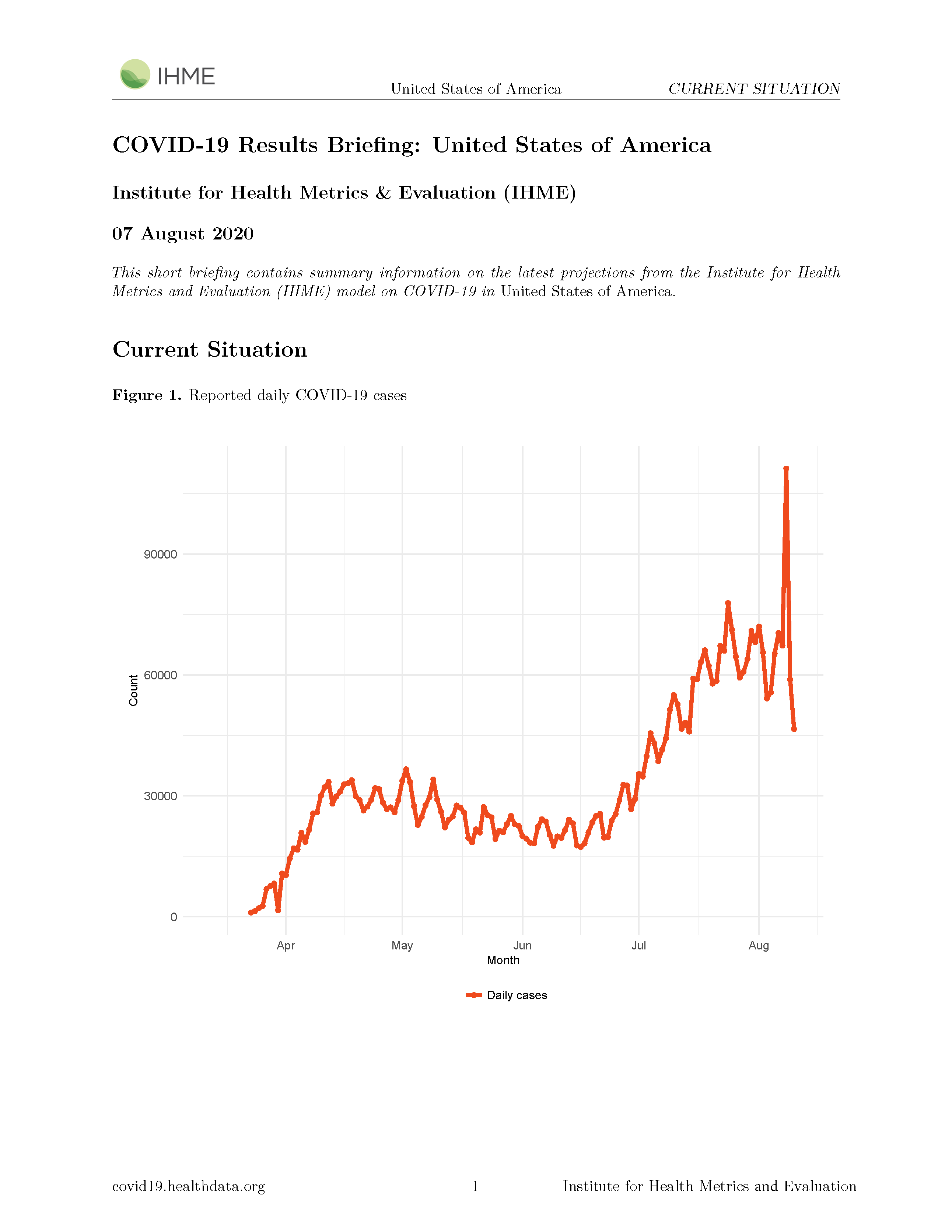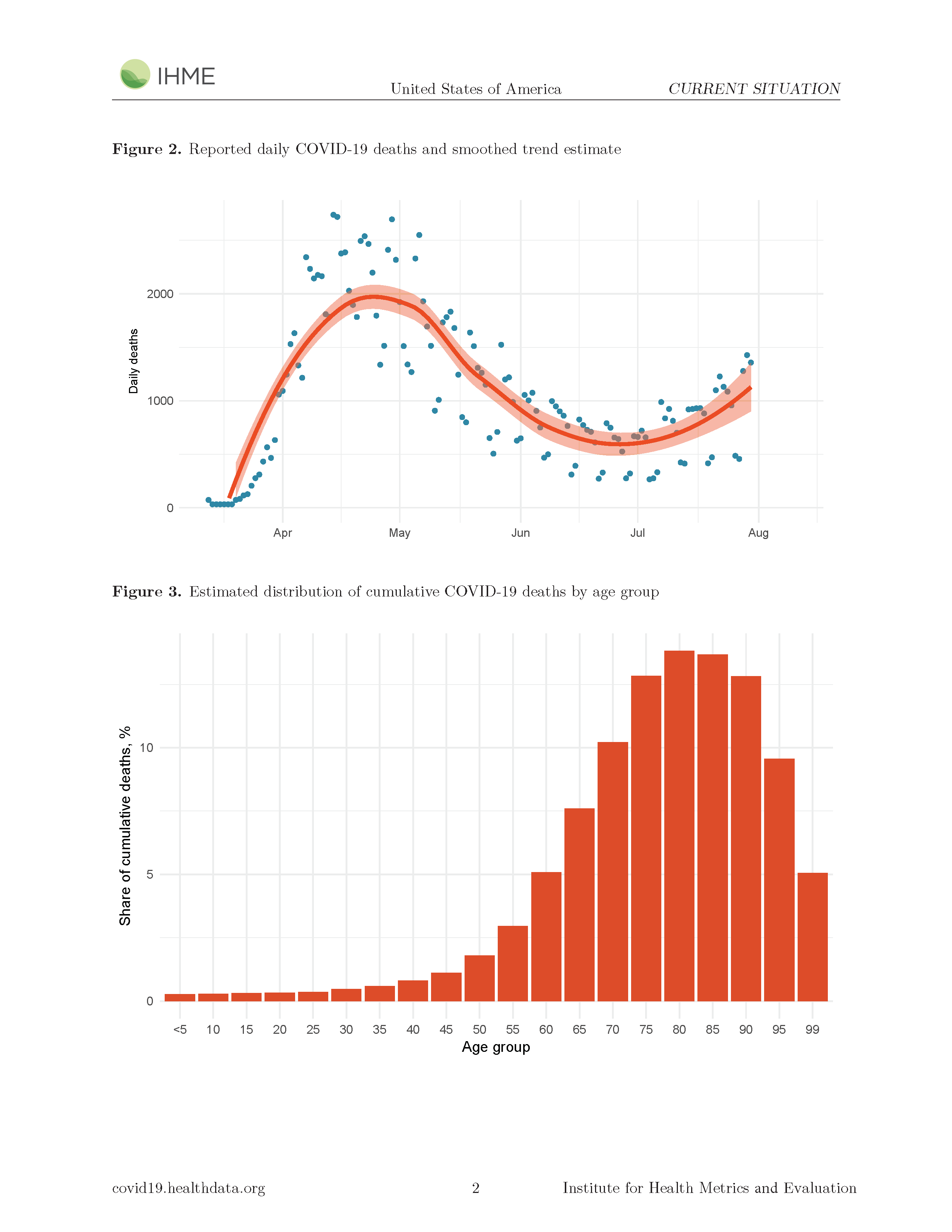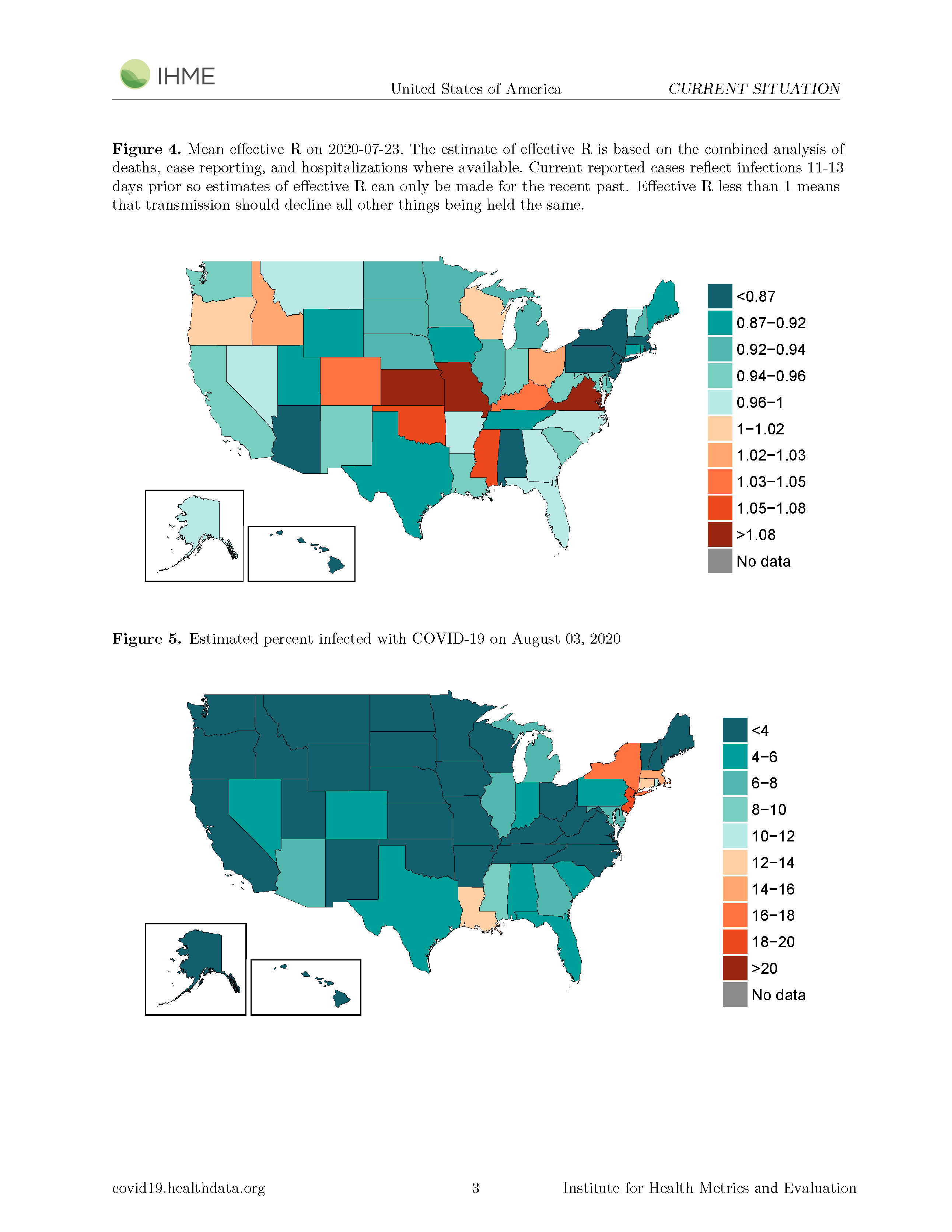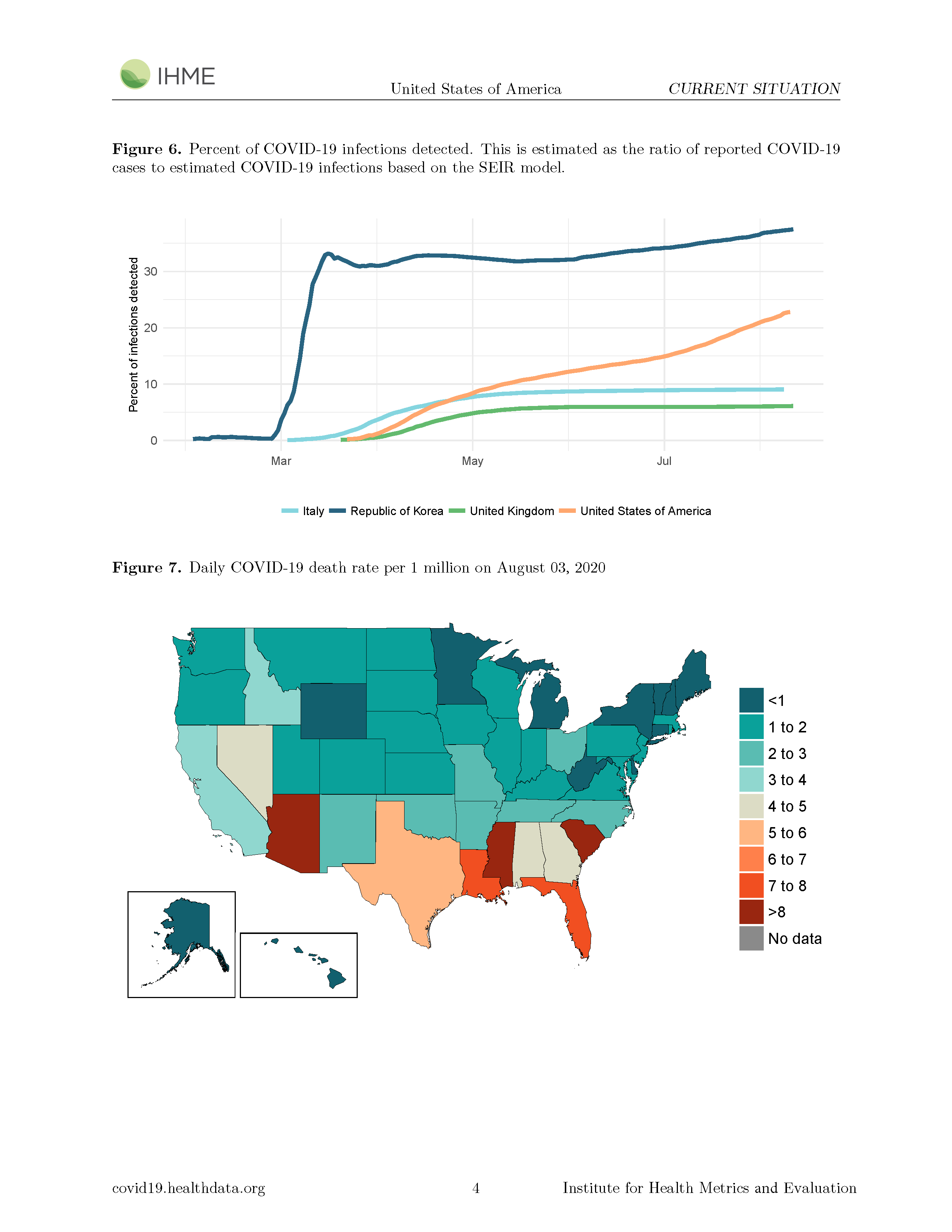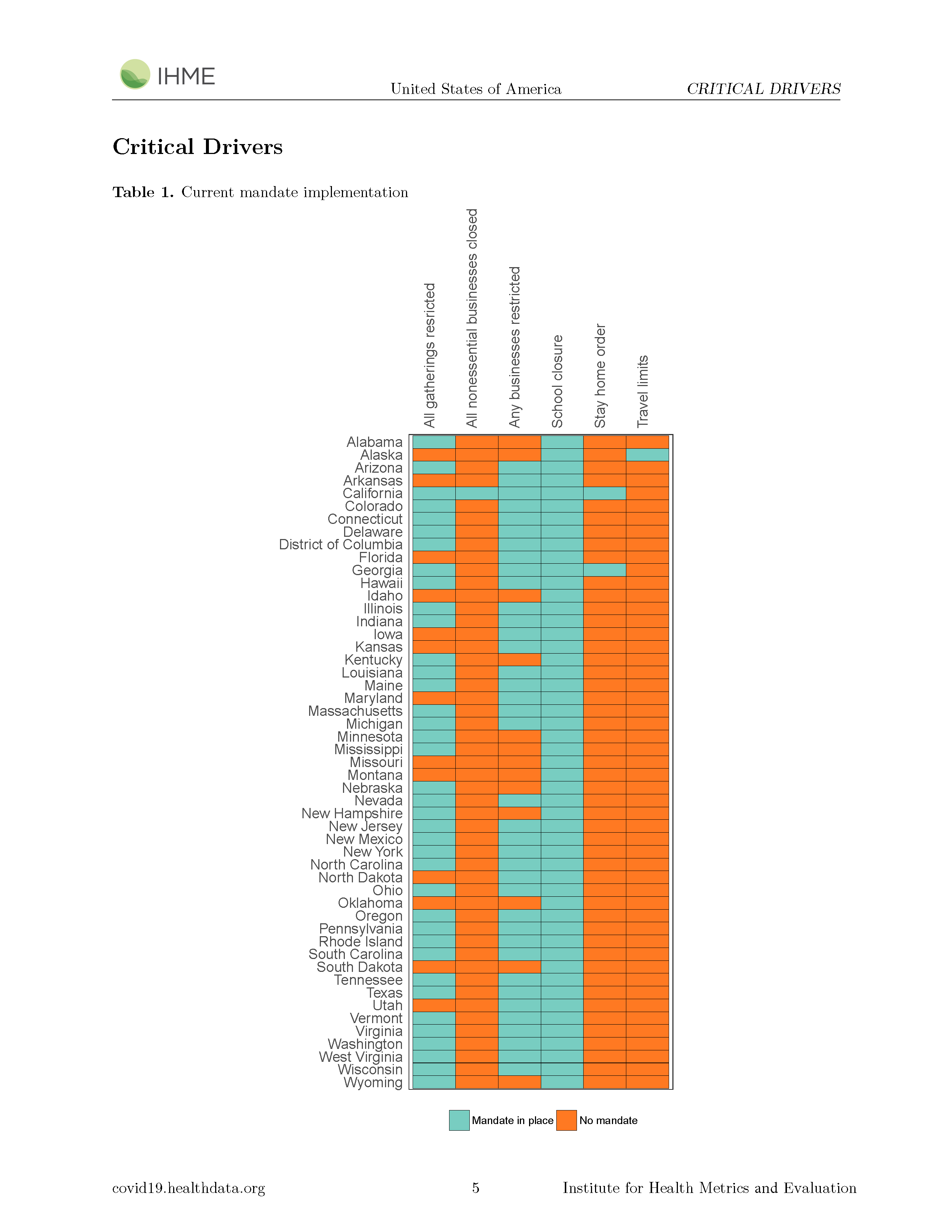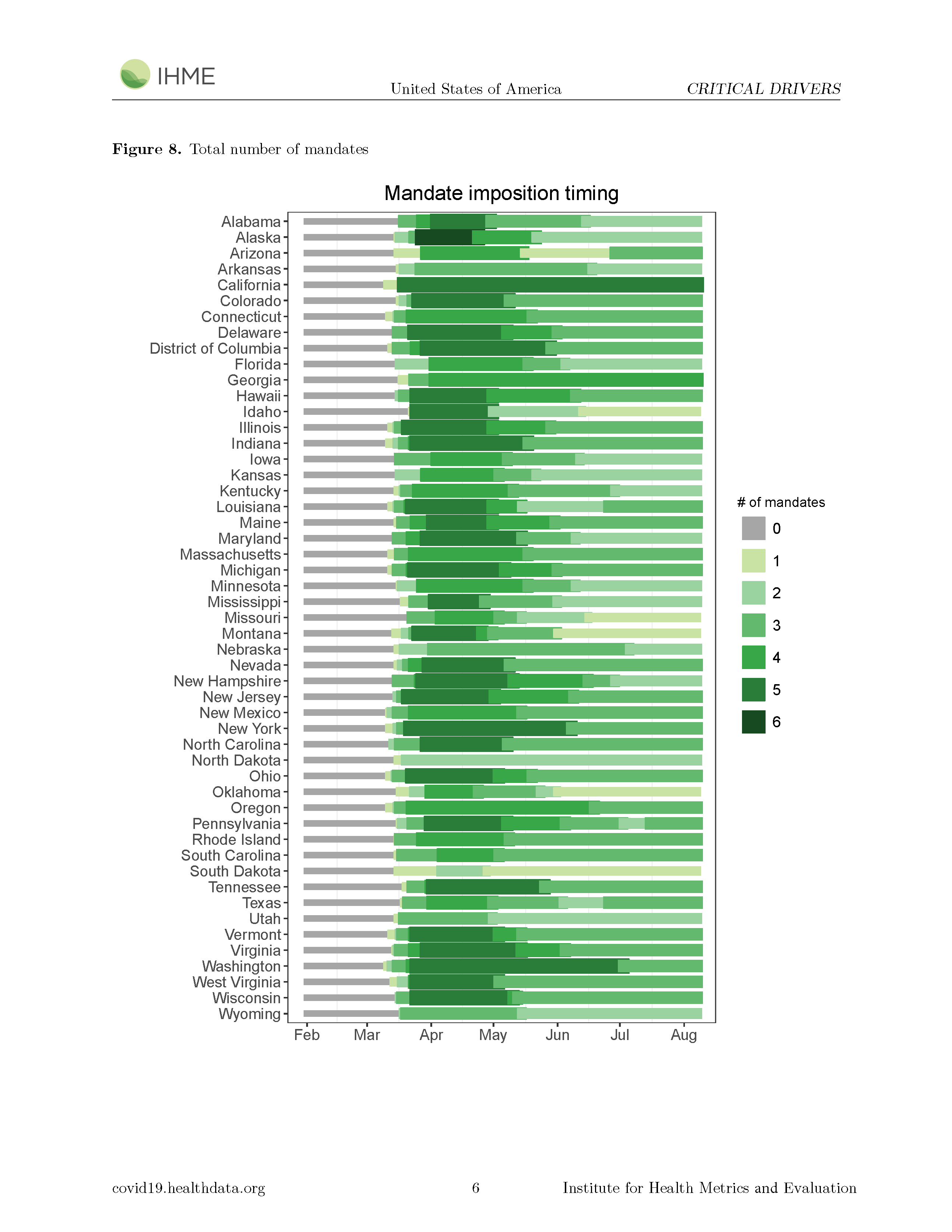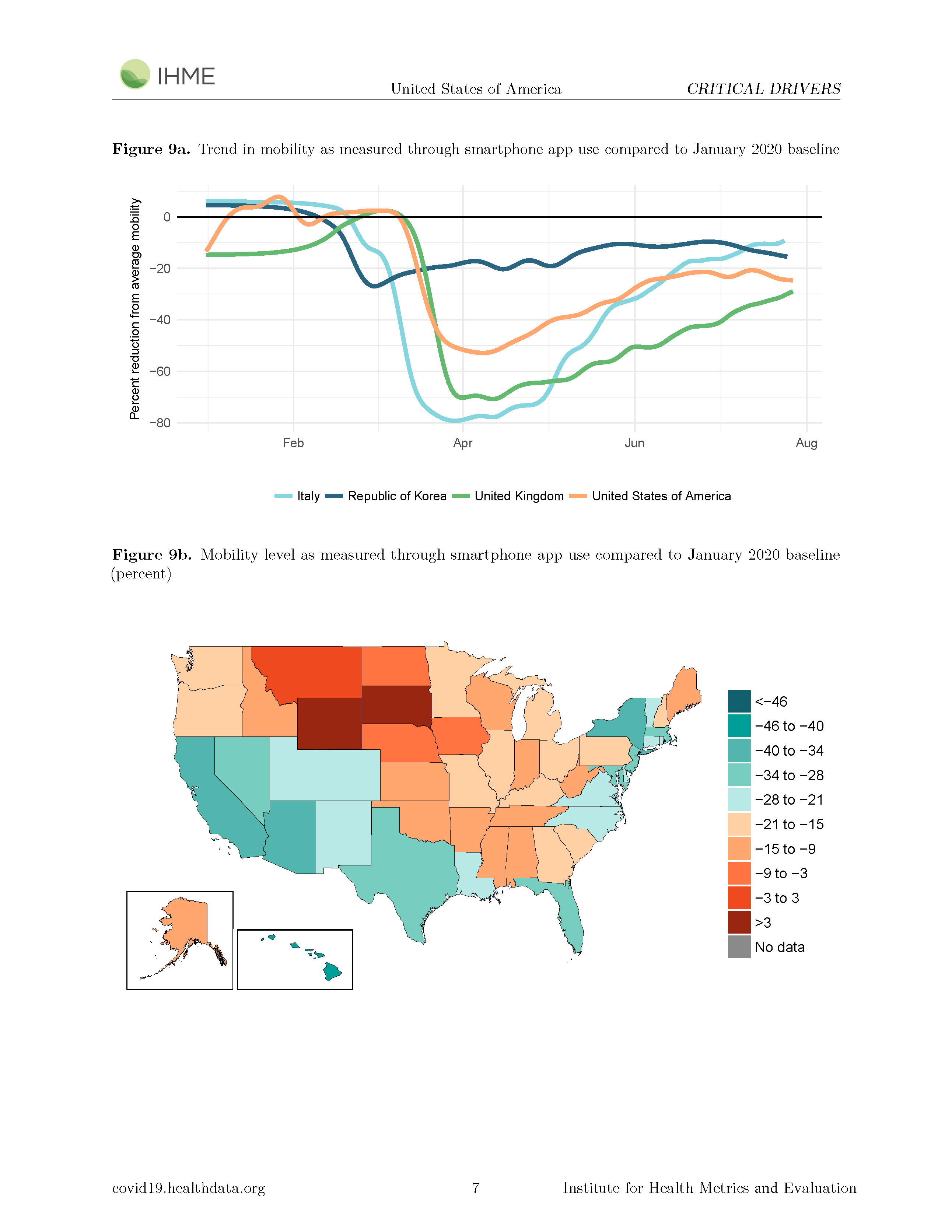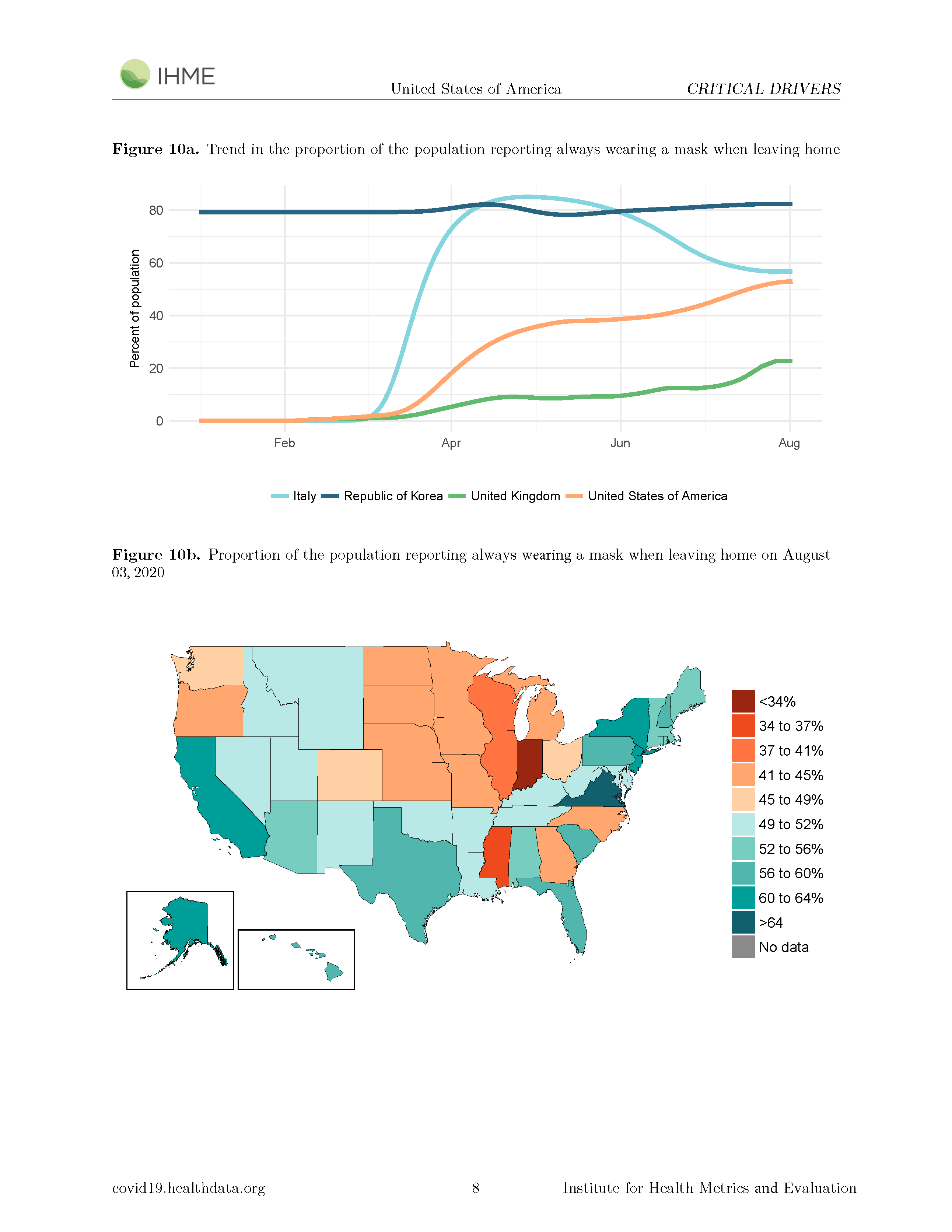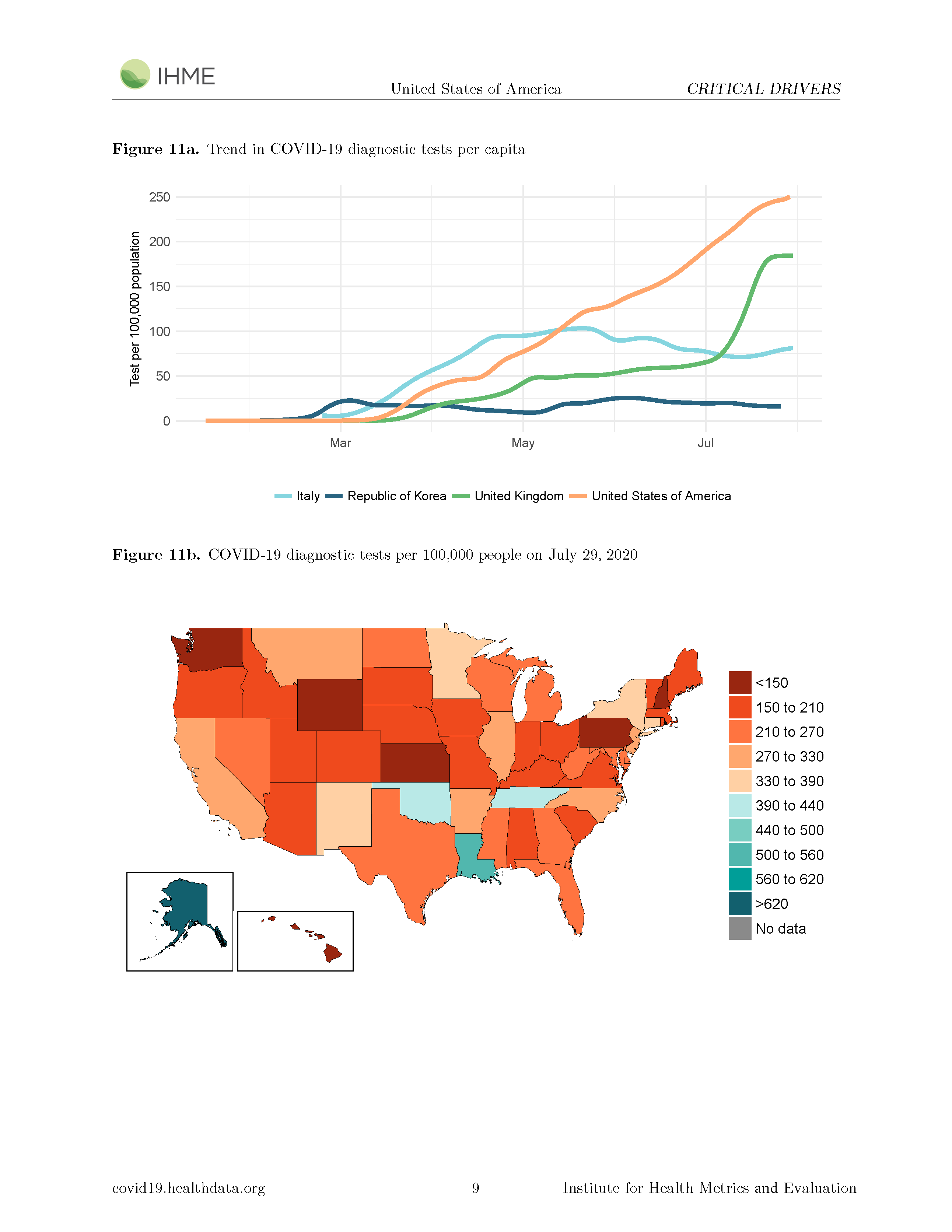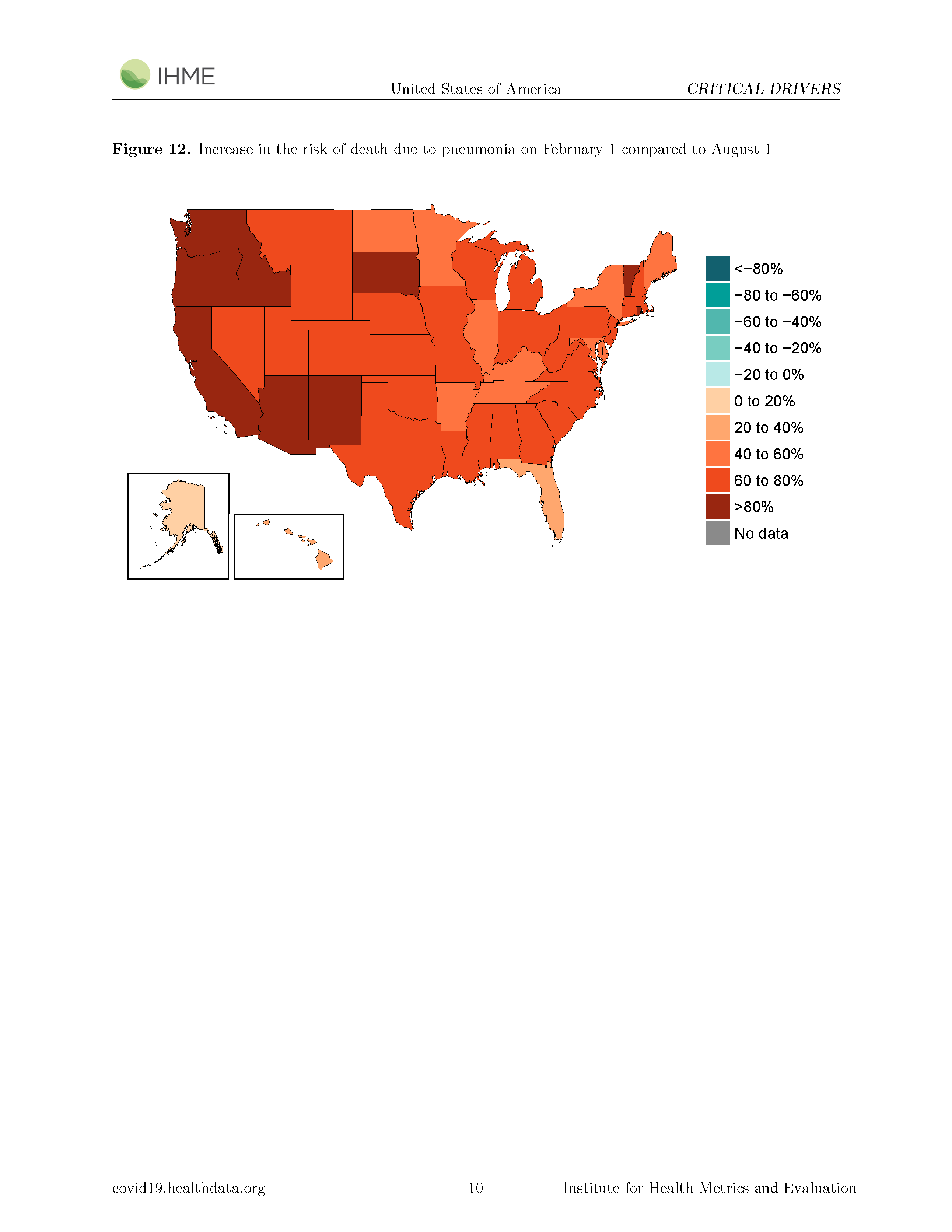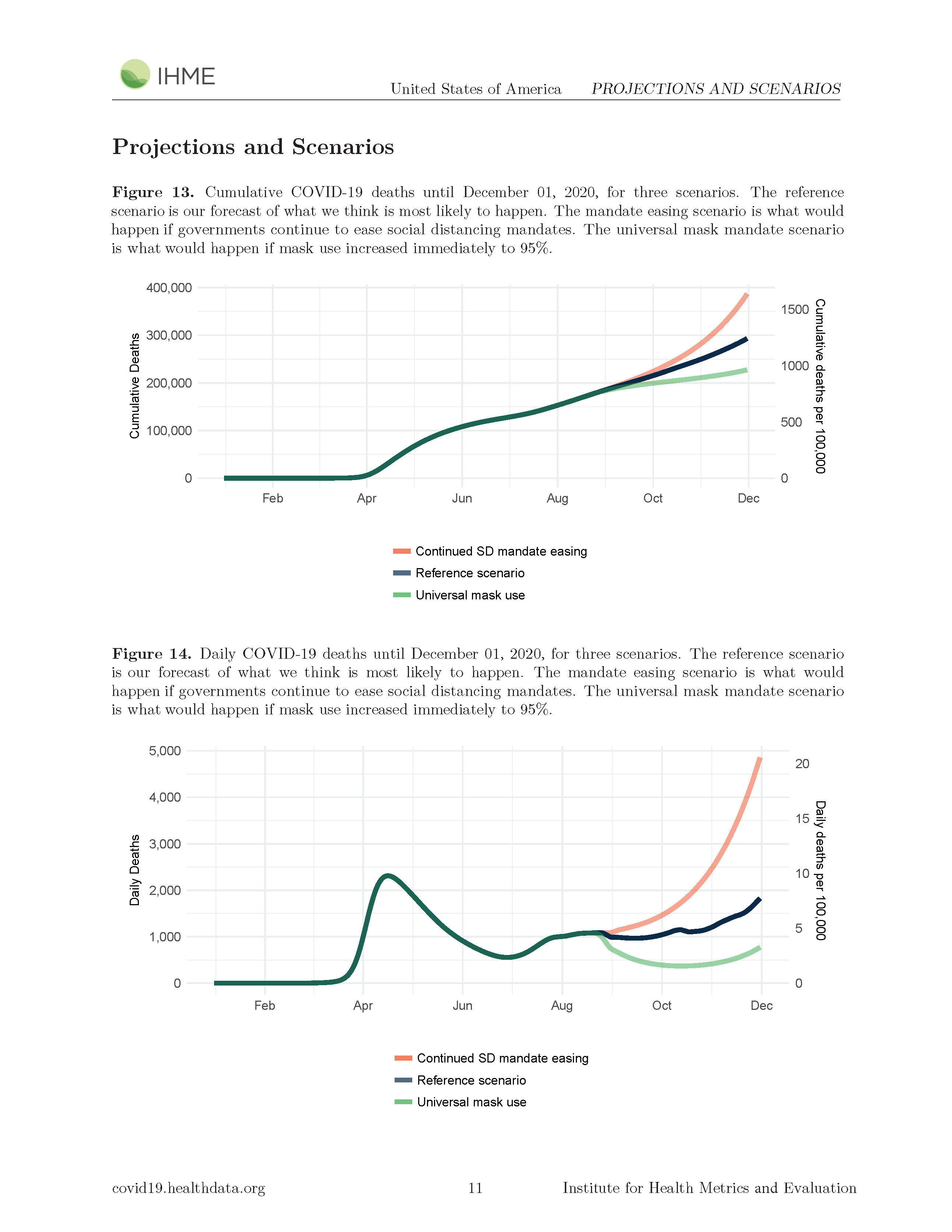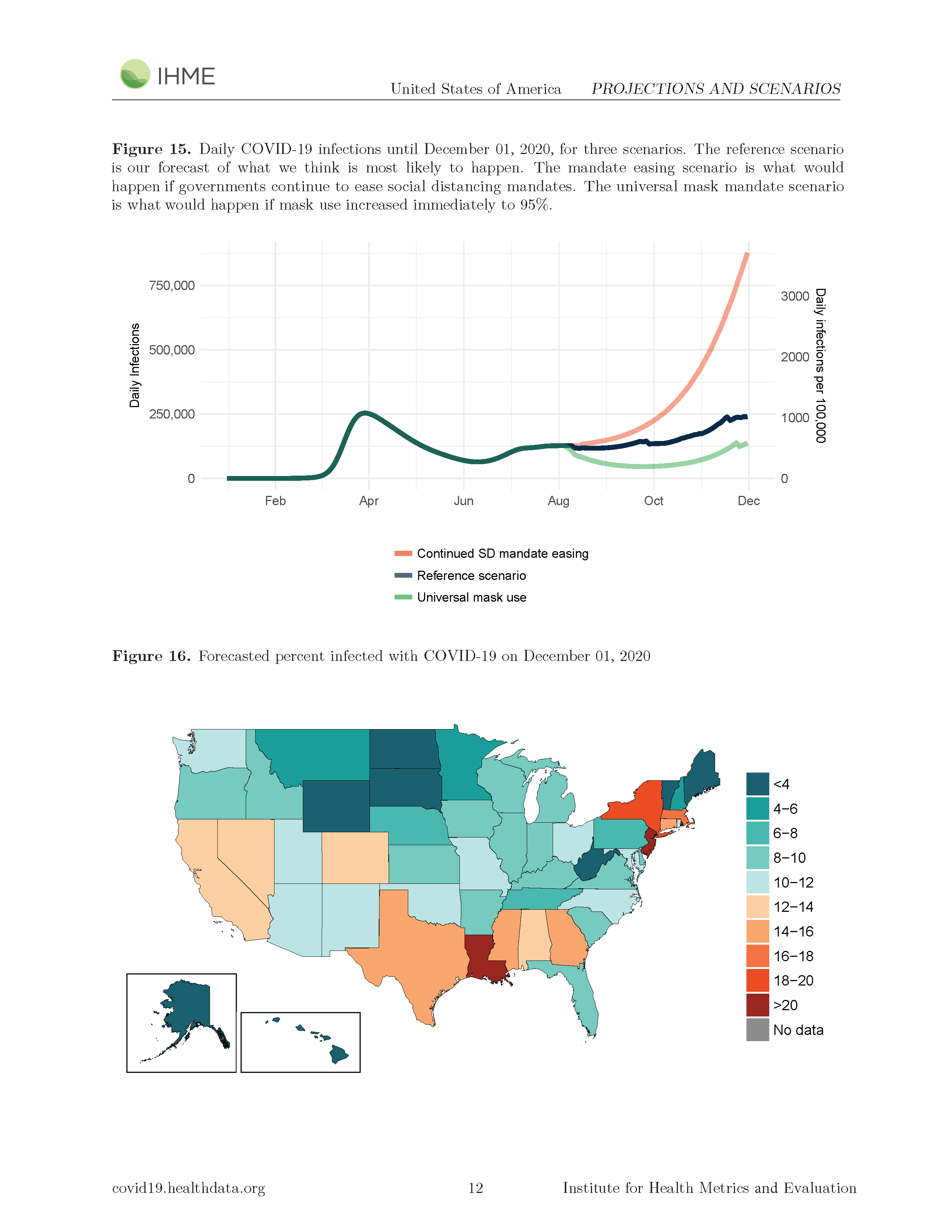 A note of thanks
We would like to extend a special thanks to the Pan American Health Organization (PAHO) for key data sources; our partners and collaborators in Argentina, Brazil, Bolivia, Chile, Colombia, Cuba, the Dominican Republic, Ecuador, Egypt, Honduras, Israel, Japan, Malaysia, Mexico, Moldova, Panama, Peru, the Philippines, Russia, Serbia, South Korea, Turkey, and Ukraine for their support and expert advice; and to the tireless data collection and collation efforts of individuals and institutions throughout the world.
In addition, we wish to express our gratitude for efforts to collect social distancing policy information in Latin America to University of Miami Institute for Advanced Study of the Americas (Felicia Knaul, Michael Touchton), with data published here: http://observcovid.miami.edu/; Fundación Mexicana para la Salud (Héctor Arreola-Ornelas) with support from the GDS Services International: Tómatelo a Pecho A.C.; and Centro de Investigaciones en Ciencias de la Salud, Universidad Anáhuac (Héctor Arreola-Ornelas); Lab on Research, Ethics, Aging and Community-Health at Tufts University (REACH Lab) and the University of Miami Institute for Advanced Study of the Americas (Thalia Porteny).
Further, IHME is grateful to the Microsoft AI for Health program for their support in hosting our COVID-19 data visualizations on the Azure Cloud. We would like to also extend a warm thank you to the many others who have made our COVID-19 estimation efforts possible.
For all COVID-19 resources at IHME, visit http://www.healthdata.org/covid.
Questions? Requests? Feedback? Please contact us here.
Previous posts: March 30, 2020 | March 31, 2020 | April 1, 2020 | April 2, 2020 | April 5, 2020 | April 7, 2020 | April 10, 2020 | April 13, 2020 | April 17, 2020 | April 21, 2020 | April 22, 2020 | April 27, 2020 | April 29, 2020 | May 4, 2020 | May 10, 2020 | May 12, 2020 | May 18, 2020 | May 25, 2020 | May 26, 2020 | May 29, 2020 | June 5, 2020 | June 8, 2020 | June 10, 2020 | June 15, 2020 | June 25, 2020