On December 13, 2016, President Obama signed the 21st Century Cures Act into law. Intending to "accelerate the discovery, development, and delivery of 21st century cures," the act emphasizes using burden of disease data to prioritize areas of research and innovation.
The act suggests that the National Institutes of Health (NIH) support prize competitions for improving health outcomes that "represent a significant disease burden in the United States." Furthermore, the act requires the NIH to develop strategic plans that consider burden of disease in the development of research priorities, acknowledging that prioritizing areas with high disease burden will lead to a good return on investment for the US government.
Taking a personalized approach to drug development, the act also requires the Secretary of Health and Human Services to develop official guidelines for collecting data on patient experience that include information on the disease burden of these patients. The act states that documents guiding the collection of these data should cover "methodological approaches that may be used to develop and identify what is most important to patients with respect to burden of disease…."
Further, the act mandates collaboration with federal agencies in the development of vaccines that will minimize the burden of infectious disease.
Top causes of death and disability in the US, 1990 and 2015, both sexes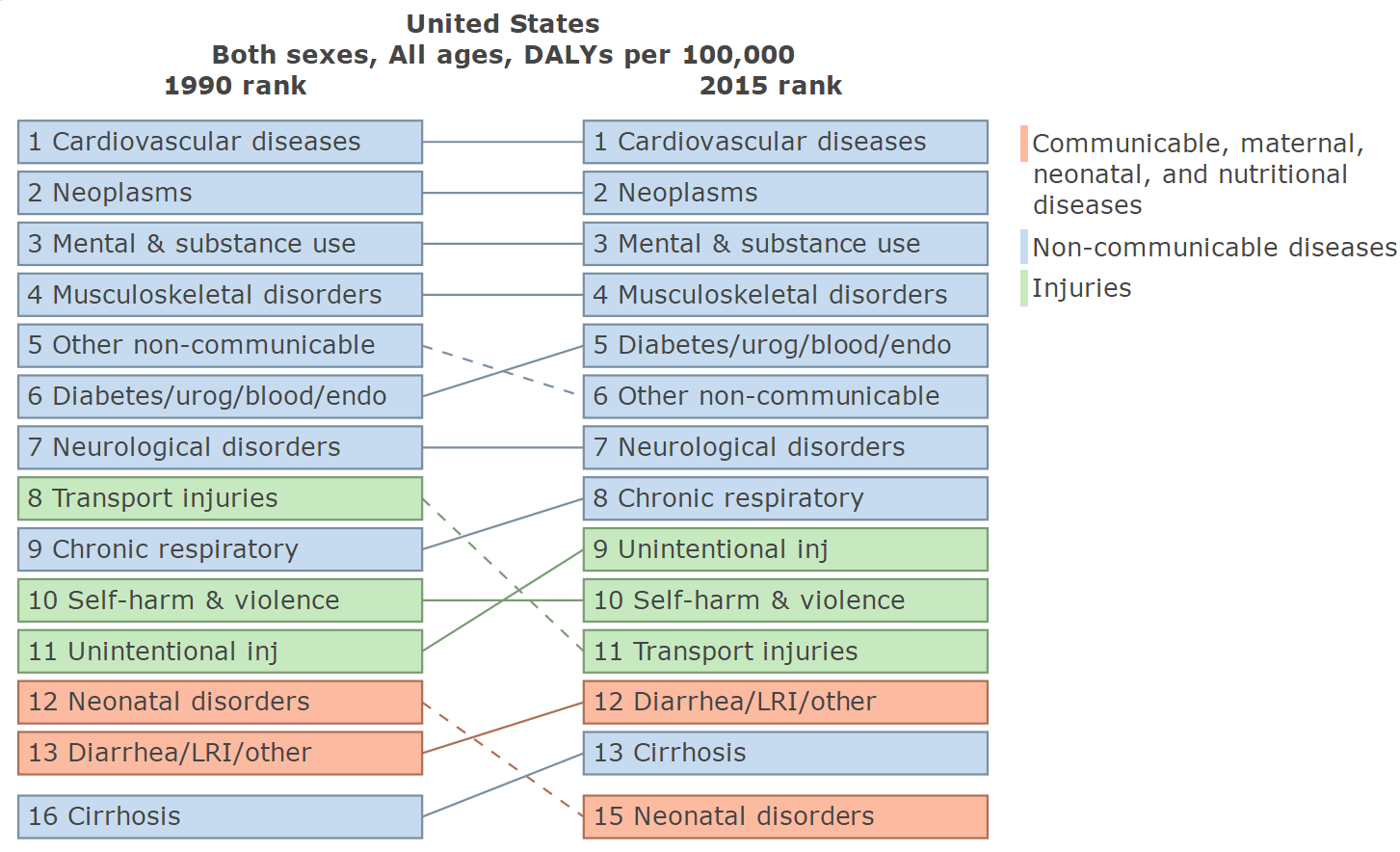 Beyond research and innovation, the act prioritizes identifying ways to decrease the burden of mental and substance use disorders in the US. According to the Global Burden of Disease study, these disorders were ranked as the third-leading cause of early death and disability in 2015, with only cancers and cardiovascular disease ranking higher. Mental and substance use disorders, along with other leading causes of DALYs like Alzheimer's disease, will be prioritized in the coming years, with the hopes of developing new cures or innovative prevention methods.
The new legislation will increase research, innovation, and interventions in a way that has potential to reduce burden of disease and improve the lives of millions of Americans. Introduced in 2015 by Representative Suzanne Bonamici from Oregon (D), the 21st Century Cures Act received overwhelming congressional support. This act remains proof that prioritizing the reduction of disease burden is something that both political parties can support.