For more information about IHME's work and priorities, please contact: William Heisel, Director of Global Services, at (206) 897-2886 or [email protected].
---
Better health through better data.
To cure a patient, you first need a diagnosis. In global health, reliable diagnoses eluded decision-makers for many years. No one could tell you with a high degree of certainty how many mothers died in childbirth every year, or how many people suffered from depression, or how many children went to bed hungry. We often saw claims about those numbers, but they were dubious at best.
At the Institute for Health Metrics and Evaluation, we are diagnosing the world's health problems and identifying solutions to these problems. We have amassed the world's largest health data repository – which contains more than 30,000 sources of data – to answer these pressing questions. And we are disseminating findings from our studies to decision-makers, health care providers, researchers, and students through informational materials, interactive data visualizations, and targeted outreach.
These are some of the ambitious activities we're currently working on and projects we're planning that will revolutionize the world's approach to tackling health threats.
1. Comparing different health threats
Each year, the Global Burden of Disease study provides a checkup on the world's health, measuring healthy years stolen away by more than 300 diseases, injuries, and risk factors. Some of these health problems are not as well understood as they should be. With resources, we can build our capacity to study these conditions in greater detail and make sure the world has the best possible understanding of the biggest health problems.
2. Mapping communities' health
Detailed maps of health at the community level help decision-makers locate those in greatest need and identify, over time, neighborhoods where health is improving or declining. For instance, IHME's recent research shows that life expectancy varies greatly across census areas in King County, Washington, and in some areas, it's declining. Detailed information on health disparities within neighborhoods provides many benefits to public health agencies and healthcare providers, and can also empower communities to advocate for the public health and medical care best suited for their needs.
3. Preventing future health crises
Anticipating what will shape health years or decades ahead, such as new pandemics, the emergence of antimicrobial resistance, climate change, or wars and disasters, gives decision-makers the information they need to plan for the future. Thanks to its methodological sophistication, IHME is in a unique position to create a comprehensive forecasting framework based on the Global Burden of Disease databases. IHME could also develop methods to provide a vision of how the future could be altered through actions taken today, such as stronger tobacco control measures or a breakthrough in HIV prevention or treatment.
4. Tracking present and future health spending
For seven years, we have tracked donors' spending on health in low- and middle-income countries: the total is more than $30 billion annually. But spending starts at home; governments and households in low-, middle-, and high-income countries are the primary source of health dollars. By tracking flows of money to different health conditions and service providers (such as hospitals and clinics), IHME can predict future trends in health spending and identify where spending has improved health.
5. Identifying affordable health solutions
The Global Burden of Disease study provides a comprehensive diagnosis of a country's health problems. Choosing the right course of action requires information on what works and what different options cost. Governments, health care providers, and individuals need to understand what is possible and what is affordable. We would develop tools to gather data, provide rigorous analyses, and share the outcomes throughout the world through downloads and dynamic data visualizations.
6. Transforming knowledge into better health
Even when promising public health breakthroughs are published in academic journals, there's a danger that the work will be underutilized. Helping local decision-makers translate these findings into action is essential for improving health on the ground. With an investment made to create a Center for Policy Translation at IHME, we would identify and engage local champions of data-driven decision-making throughout the world, work with them to identify the data and analysis they need to influence policy discussions in their communities, and measure the impact of this policy translation work on health outcomes.
7. Cultivating future leaders
We train students, fellows, policymakers, and health workers in data collection and evaluation to shape the most successful interventions and health policies for their countries. Our goal is not only to produce top-level specialists in health metrics, but also to make sure that more people understand and contribute to the collection and evaluation of data that can improve the world's health. Our graduates have gone on to work in United Nations agencies, nonprofits, donor organizations, and country governments worldwide.
8. Building IHME's institutional capacity
We have built a vibrant and dynamic organization designed to be the global leader in health metrics and evaluation, growing from a handful of individuals in 2007 to more than 220 today. To rise to the challenge of our vision as laid out in this document, we must recruit more talented faculty and staff, create a Director's Innovation Fund, and expand our data processing capacity and speed.
---
Excerpt from
"One Doctor's Quest to Save the World with Data"
Originally published in Wired
In Rwanda, people have to deal with all kinds of threats to their health: malaria, HIV/AIDS, severe diarrhea. But in late 2012, Agnes Binagwaho, Rwanda's Minister of Health, realized her country's key health enemy was something far more innocuous. The thing causing the most harm to her people, the leading risk factor for premature death and disability, was inside their own homes: Dirty indoor air, from cooking food over burning dung and vegetation in poorly ventilated huts. Within weeks, Binagwaho announced a program to distribute one million clean cookstoves to the poorest households in the young, mostly rural country.
Binagwaho was able to improve millions of lives thanks to a new kind of medical record-keeping, only possible in this era of big data. Just as Billy Beane, general manager of the Oakland Athletics, used sabermetrics to maximize wins, epidemiologists can crunch data to determine the so-called global burden of disease – information that can be used to optimize the health of a neighborhood, nation, or the entire globe. Call it Moneyball for public health.
You might think that policymakers and health czars would jump at the chance to save the maximum number of lives with a minimum of investment. But it hasn't always been easy going for Christopher Murray, the godfather of the approach, who today directs the Institute for Health Metrics and Evaluation at the University of Washington. In Epic Measures, published earlier this month, health journalist Jeremy Smith recounts Murray's struggle to index the global burden of disease – and the political obstacles he encountered in publishing and distributing his findings.
---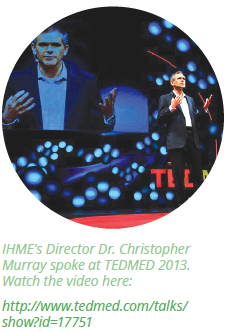 Areas for visionary investment
Achieving our vision requires going deeper in our work on the Global Burden of Disease (GBD), providing the world comprehensive information on how available resources can be used more effectively and catalyzing the translation of this evidence into health policies and programs that actually improve people's lives.
The above projects are several areas in which new resources could help IHME build on our successes and have even greater impact. Of course, gifts of any amount are welcome and allow us to further our mission.