Determining tobacco's cost in Arkansas
Published June 20, 2019
You rarely get something for free in life. The bill nearly always comes due. When it comes to health, for instance, the long-term damage to population health caused by smoking is costing us plenty. By using findings from the Global Burden of Disease study (GBD), a new analysis out of Arkansas shows just how expensive smoking is.
As part of a recent bipartisan push to enact new anti-tobacco legislation in the state, the Arkansas Center for Health Improvement (ACHI) used data from the Global Burden of Disease study and the Institute for Health Metrics and Evaluation (IHME) to highlight the steep cost of tobacco use in Arkansas. ACHI's analysis revealed that the cost of smoking was more than double what previous estimates had indicated.
A group of state senators and representatives forming the Arkansas Tax Reform and Relief Legislative Task Force explored taxes across the state's budget, including those related to tobacco products. As part of that effort, they examined costs in the state's budget due to tobacco.
There are not a lot of estimates available on the costs of smoking in Arkansas. One estimate that was available, and was provided to lawmakers on the task force, was an estimate from a Campaign for Tobacco-Free Kids report pegging the cost of smoking to Arkansas's Medicaid program at $293 million per year. While useful, that estimate was based on data that was a bit old – much of it was from the 1990s and early 2000s, inflated to 2009 dollars.
Dr. Joe Thompson, CEO of ACHI, thought that estimate was probably too low for 2019. A lot had happened since those data had been collected. The costs of health care in the United States had increased dramatically. Also, the Arkansas Medicaid population had changed since the early 2000s due to the expansion of the Children's Health Insurance Program and, recently, of Medicaid under the Affordable Care Act. Those expansions changed the characteristics of the people covered by Medicaid, making direct comparisons between 2019 and the 1990s problematic. If all of these changes were taken into account, Dr. Thompson believed, he could show that the cost of smoking in Arkansas was actually much higher.
As of 2017, smoking was the second-leading cause of early death and disability in Arkansas, behind only dietary risks.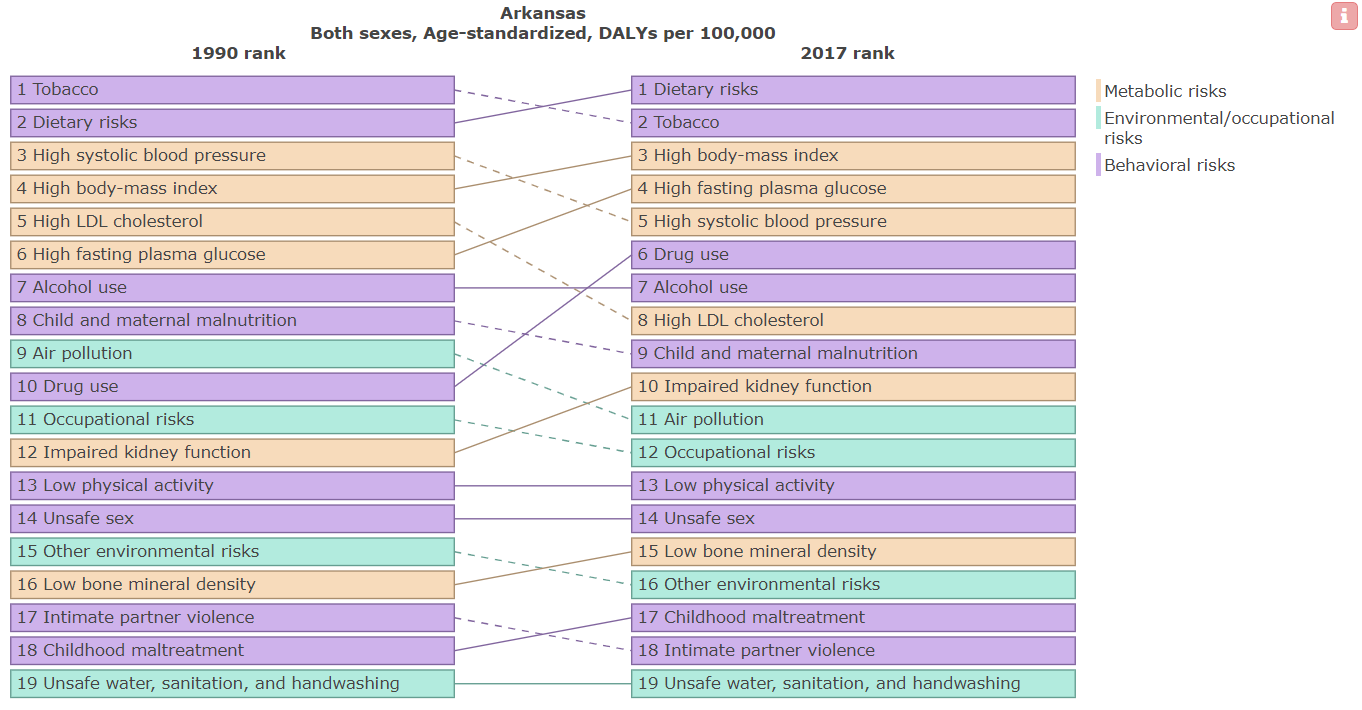 Figure 1: Leading risk factors contributing to age-standardized disability-adjusted life years (DALYs), Arkansas, both sexes, 1990–2017
What's more, despite an overall decline in smoking rates in Arkansas, smoking has remained one of the biggest health issues facing Arkansans. Estimates from the GBD show that smoking was the second-leading risk factor causing early death and disability in Arkansas in 2017, down from being the leading risk factor in 1990 (Figure 1).
Compared to the rest of the United States, Arkansas's disease burden caused by smoking is high. Figure 2 shows the average rate of disease burden from smoking in all 50 US states and Washington, DC, between 1990 and 2017, versus that for Arkansas. In 2017, Arkansas ranked fifth in the US for disease burden due to smoking.
Compared to the rest of the US, the disease burden caused by smoking in Arkansas is high.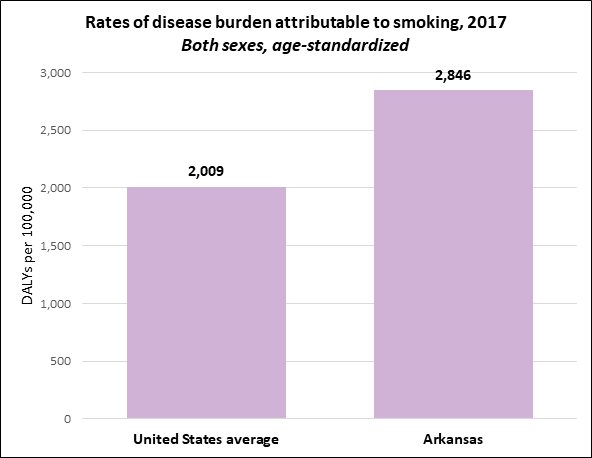 Figure 2: Age-standardized DALYs per 100,000 attributable to smoking, both sexes, 2017
Dr. Thompson and ACHI set out to get a more accurate picture of Medicaid costs due to smoking. They dug into IHME estimates on the costs of smoking in the US, the proportion of the Arkansas population likely to be exposed to smoking, the disease burden associated with smoking, and other factors. They combined information from the GBD and IHME with information from other sources, such as the Arkansas All-Payer Claims Database, which contains health insurance claims filed in Arkansas.
Earlier this year, ACHI released their estimate of the cost of smoking to Arkansas's Medicaid program: $795 million annually among adults aged 30 to 65. "Accurate, updated data indicated that smoking cost the state of Arkansas more than two-and-a-half times what the task force had been informed," Dr. Thompson said.
ACHI then followed up their Medicaid work with estimates of smoking's costs to the state's private insurers. Again, those costs were considerable: $542 million annually among adults aged 30 to 65.
By the legislative session's end, Arkansas had raised the purchase age for both tobacco and electronic cigarettes to 21. Legislators and health advocates also mounted efforts to establish a major tax increase on tobacco products and new taxes on vaping products. Those tax policies were adopted by the Arkansas Senate but ran out of steam in the House. The tax debate now continues in committee, with advocates pushing to update the ways Arkansas taxes both traditional tobacco and vaping products.
"It just goes to show how important good data and sound methods can be in policy discussions," Dr. Thompson said.
Since both smoking and the costs associated with it will remain important issues for the foreseeable future, policymakers will continue to need accurate health-related estimates to make informed decisions about the costs of health care linked to smoking.
"ACHI's estimate is a great example of the relevance of IHME's work to US policy discussions," said Dr. Joseph Dieleman, an assistant professor at IHME whose work on smoking costs factored into ACHI's work. "Our estimates on disease burden, risk factors, and health care costs are regularly updated and made freely available for a reason: to use data to improve health – including in policy debates here in the US."