SMI aims to reduce maternal and child health inequalities through a result-based financing model, where interventions are implemented in the areas representing the 20% poorest populations in each country and work to increase coverage of immunizations, reproductive services, maternal care, and child health services.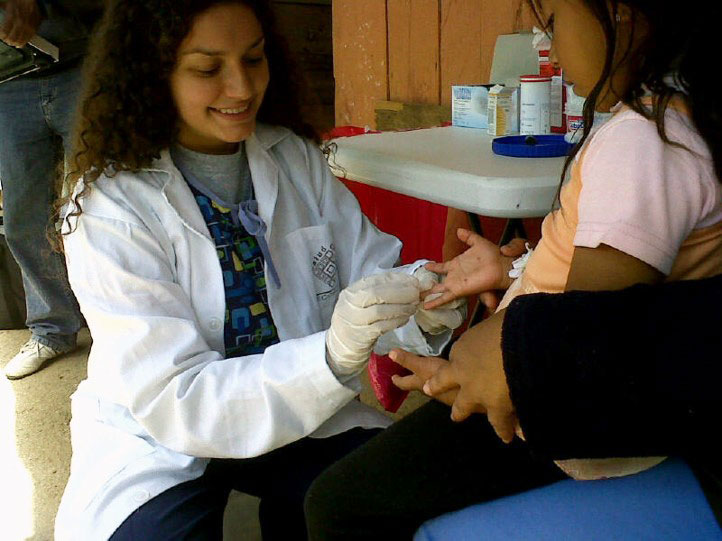 IHME is the independent evaluator of SMI. Our Institute works to capture changes in the key maternal and child health indicators targeted by SMI and assess the impact of interventions. Survey instruments are specifically tailored to each indicator and country, and the data IHME collects and analyzes, in collaboration with IDB, capture changes in the key maternal and child health indicators.
The initiative's evaluation component include the following quantitative and qualitative models of data collection to comprehensively measure performance:
Household interviews: surveys in households capture use, access, expenditure, and perceived quality of key interventions for women of reproductive age and children under 5.
Biometric/anthropometric measurement: in select households, height, weight, and anemia measurements are taken, as well as dried blood spots for assessing effective coverage of measles vaccinations.
Health facility observation and interviews: surveyors record the availability of key interventions, supplies, equipment, infrastructure, staff, and good management practices.
Medical record reviews: information on record-keeping and quality of maternal and child health care, as measured against the norms in each country, is extracted from medical records.
Qualitative methods: interviews and focus groups with key informants and community members, document review, and fact checking/fact-finding shed light on the processes and efficacy of SMI.
Learn more about the qualitative process evaluation of SMI.
Survey instruments and protocols
Relevant survey instruments, protocols, and trainings used during the Salud Mesoamérica Initiative Evaluation can be found on the Global Health Data Exchange, along with data and materials from the baseline and first follow-up.

Funding and partner organizations
The Salud Mesoamérica Initiative (SMI) is a public-private partnership between the Bill & Melinda Gates Foundation, the Carlos Slim Foundation, the governments of Canada and Spain, the Inter-American Development Bank (IDB), the countries of Central America and the state of Chiapas in Mexico.
The SMI Evaluation team harnesses the expertise of numerous distinguished organizations to carry out this work. Data is collected the following organizations across the nine participating countries:
El Colegio de la Frontera Sur (ECOSUR)
UNIMER
Fundación para la Educación y el Desarrollo Social (FES)
Instituto Nacional de Salud Pública (INSP)
University of Belize
University of Costa Rica
Country profiles
Costa Rica
El Salvador
Guatemala
Mexico
Panama
---
Final reports
Belize
Costa Rica
El Salvador
Guatemala
Honduras
Mexico
Nicaragua
Panama
---
Presentations
DÍA 1 - ESPAÑOL | El Modelo de Financiamiento basado en Resultados para la Salud Global
DÍA 2 - ESPAÑOL | El Modelo de Financiamiento basado en Resultados para la Salud Global
Salud Mesoamérica 2015 Initiative: Data for Better Health
---