IHME introduces the Burden of Proof, a new star rating system to help consumers make sense of confusing health guidance.
As part of our vision to see all people living long lives in full health, we're investigating which popular health recommendations actually have the biggest impact, so everyone from health-conscious individuals to policymakers can better understand the strength of evidence behind certain risks and outcomes.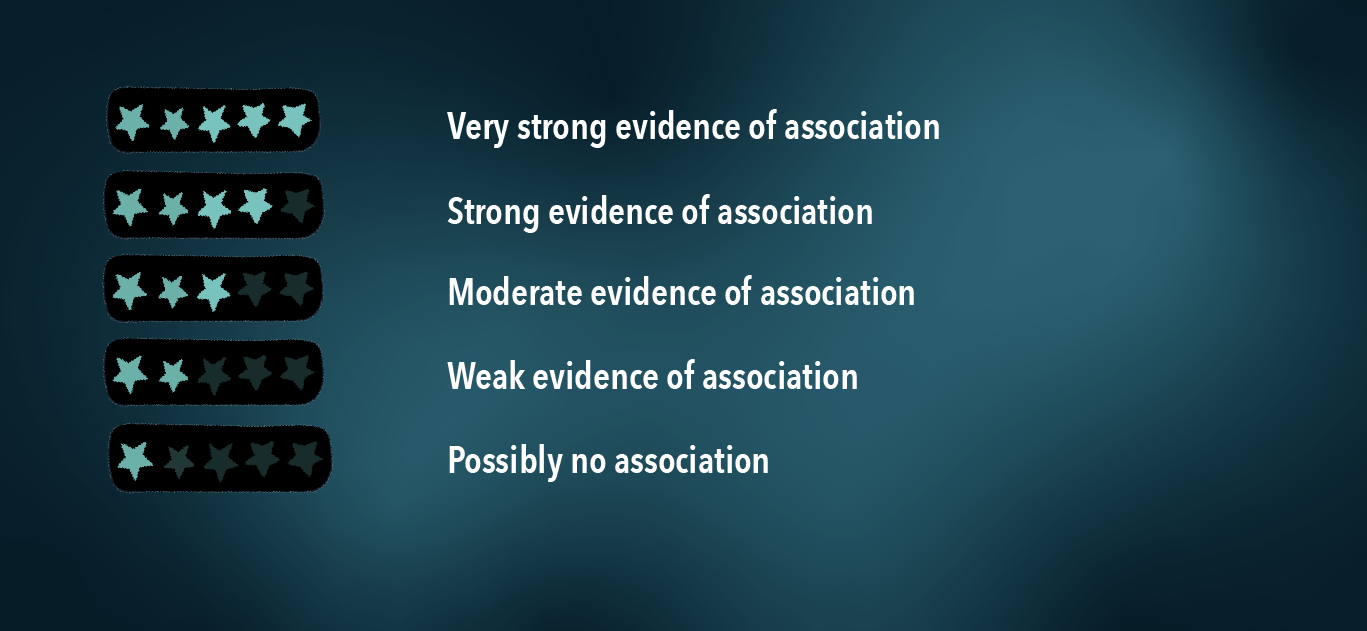 What risks have the strongest, most consistent evidence across studies?
By examining all the available scientific studies on each risk and outcome pair, we assign a star rating to show how strong the link is between the two.
Skip to the methods →
What do the experts say?
"What we are hoping to catalyze here is more research into the areas where we have a lot of unknowns. So the one- and the two-star pairings are areas of work where we hope to see a lot more evidence being generated." – Dr. Emmanuela Gakidou, IHME professor
---
What data do you have available?
Explore all the available data on strength of evidence for 50 risk-outcome pairs through our visualization tool. You can download the data as a csv in the top right corner of the tool.
The tool currently displays risk-outcome pairs related to the Burden of Proof manuscript and related risk-outcome score papers. There will be a second release that will include a larger set of risk-outcome pairs at a later date.
TIP: Watch our video tutorial to get the most out of the tool. The tutorial is also available in multiple languages.
What are the methods behind the Burden of Proof study?
Related resources
| | | |
| --- | --- | --- |
| Just one to two servings of vegetables a day improves health | The Global Burden of Disease Study at 30 years | Coffee? Keto? Olive Oil? New tool surfaces science behind diet and habits |
| | | |